Here's another take on a Fall storytime! I posted a Fall Colors storytime a few years ago.
OPENING SONG: Hello Song*
OPENING FINGERPLAY: Open Them Shut Them*
BOOK: That Pup! by GEORGE
Simple story, large, bright pictures, and an adorable puppy. What else do you need?


LITERACY TIP: Reading
Books like That Pup! are wonderful for very young children because the pictures and words support each other so closely. It really helps children start to make the connection between written language and oral language.
FLANNEL SONG: Along Came a Puppy
One of my five million versions of Down Around the Corner. This one is written to go with the book we just read.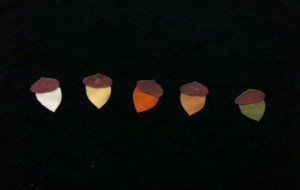 Down around the corner, just a skip and a hop
Were five little acorns with caps on top
Along came a puppy who wanted to play
And she found a little acorn and she took it away.
GUESSING GAME: Acorn Hunt
Now that the puppy has all the acorns, we need to hide them again for the squirrel! Where is the acorn? Is it behind the sunflower? These images were chosen to match That Pup! as well.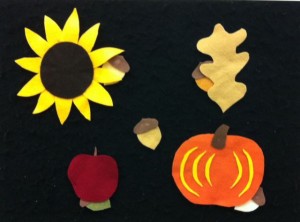 PUPPET SONG: Brown Squirrel
I learned this one in Girl Scouts! I think we sang it as "Grey Squirrel," but my puppet is brown so there you go.
Brown squirrel, brown squirrel, shake your bushy tail
Brown squirrel, brown squirrel, shake your bushy tail
Wrinkle up your funny nose
Put a nut between your toes
Brown squirrel, brown squirrel, shake your bushy tail
FLANNEL SONG: A Hunting We Will Go*
Today we used bee/tree, dog/log, crow/snow and owl/towel.
BOOK: Rokko by OPAL
One in a series of perfect board books for ones and twos.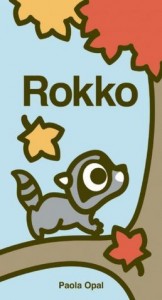 ACTION SONG: Mrs Oak Tree
I was going to cut out felt leaves for my babies to hold on to while we sang, and wave them around and act out the song, but then I started thinking that's more a toddler activity and I shouldn't push these little ones. (I really miss toddler and preschool storytimes!) Instead I had the parents stretch up their child's arms to be the tall tree, then swish their hands back and forth, then roll their hands like Wheels on the Bus.
Mrs Oak Tree, Mrs Oak Tree
Tall and brown, tall and brown
Here comes a little breeze
There go your little leaves
Swirling down, to the ground.
ACTION RHYME: This is Big Big Big*
CLOSING SONG: Sneeze Game*
*Check out the My Baby Storytime page for the words and/or citations for these weekly activities!