I am flying back into Flannel Friday with some bird patterns for you! I made these felt birds so I could sing Little Bird in baby storytime on Monday.
First you have to listen to the amazing Elizabeth Mitchell sing this song:
And here's my birds: Clockwise from the top: Bluejay, Goldfinch, Cardinal, Chickadee, Oriole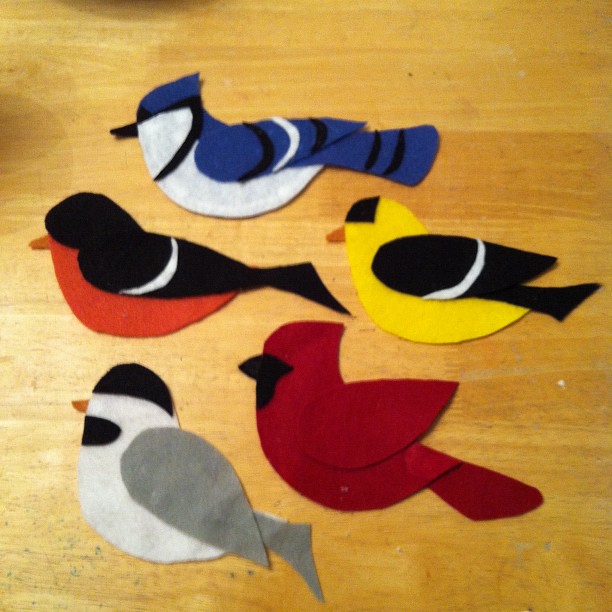 The song sings about a Whippoorwill too but I thought the other birds' coloring would be more identifiable.
With these birds, you can sing Little Bird, or you could do any Five Little Birds type rhyme. You could also use them for Two Little Blackbird-type rhymes, like Tracey uses in her Two Little Birds post. Instead of saying blackbirds or green birds or blue birds, you could say, "Two little songbirds."
If you need to scale these down a bit, while I was gluing them all together I noticed that they were still very cute and identifiable with no tails on. If you need to save some space on your flannelboard it might be a strategy to leave them off.
Here's the patterns!
Little Birds Page 1
Little Birds Page 2
Have fun making these; I sure did.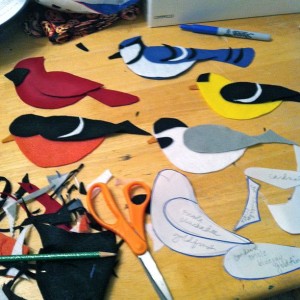 Flannel Friday Round Up is at Mollie's place today!
Find other Flannel Friday goodness at the main site.