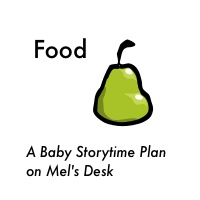 I usually do this storytime near Thanksgiving but pulled it out last month as my tribute to Maurice Sendak. RIP.
OPENING SONG: Hello Song*
OPENING FINGERPLAY: Open Them Shut Them*
BOOK: Chicken Soup with Rice by SENDAK
Where the Wild Things Are is really the perfect picture book, but Chicken Soup is my all-time favorite Sendak. "Oh my oh once, oh my oh twice, oh my oh chicken soup with rice."
BOUNCE: Mashed Potato
I can't remember where I came across this idea. It's just a little bounce game. With the child on your lap, slowly list a number of different kinds of food. When you say "Mashed Potato!" drop them gently through your knees. Today, we substituted "Chicken Soup!" for "Mashed Potato!" For example:
Sliced banana
Green beans
Chocolate cake
Chicken soup!!!
FLANNEL SONG: A Hunting We Will Go*
BOOK: Yummy Yucky by PATRICELLI
This one always makes the moms and dads laugh. I don't read all the pages, just enough to give everyone the flavor of the book.
GUESSING GAME: Very Hungry Caterpillar
I said, "Those are all yummy things in that book! Here's some more yummy things…an apple, a plum…" The Very Hungry Caterpillar was hiding behind one of the pieces of fruit! I did this several times, and the older toddlers' face just LIT UP when they realized they could see where he was hiding. Read more about this flannel here!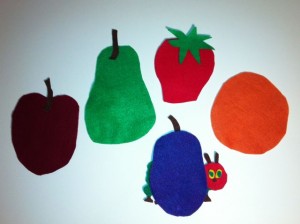 FLANNEL SONG: Five Little Cookies
The full description about this counting song & flannel set is over here. Sing it to "Five Little Ducks Went Out to Play."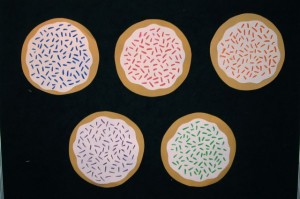 Down around the corner at the bakery shop
Were five little cookies with sprinkles on top
Along came someone with a nickel to pay
And they bought the blue cookie and they took it away.
LITERACY MESSAGE: Reading
The next time you go into a bakery with your baby, spend a little time pointing to and reading the labels for all the different kinds of treats. You will be helping your child start to make the connection between the words we say and the words on signs and labels. As they get older, they'll start to understand that reading is something we do all the time, not just when we read books!
ACTION RHYME: This is Big Big Big*
CLOSING SONG: Sneeze Game*
*Check out the My Baby Storytime page for the words and/or citations for these weekly activities!