Happy Friday!
I'm still thinking about pre-writing activities for storytime! Last week I talked about an idea for using a ribbon pull as a story prop, and this week I'm talking about finger puppets!
If you search for finger puppet ideas, you'll see a lot of tutorials and crafts for using toilet paper tubes as a starting point. I like the idea of recycling and repurposing, but a toilet paper tube finger puppet can be awfully big and loose on little hands.
So here's my fix. You still use the handy dandy "curl" of a toilet paper tube, but you downsize a bit so that they fit snugly over preschool-sized fingers.
Start with a toilet paper tube, and cut vertically and horizontally to make four pieces.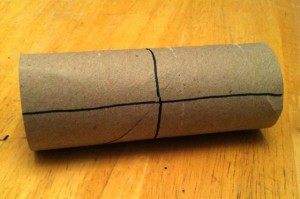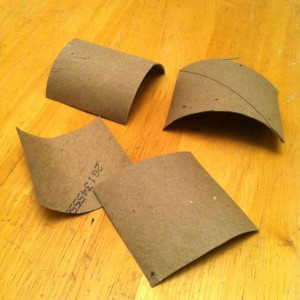 You can leave the finger puppet bodies plain, or paint them. Here I covered it in colored tissue paper, first by putting glue on the outside curve of the cardboard, then gluing on a square of tissue.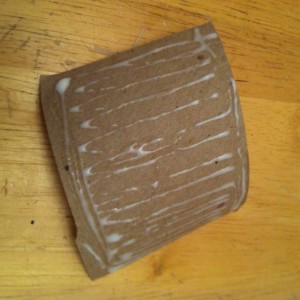 Cut a square of clear book tape or packing tape and wrap the tape entirely around the finger puppet body as you curve it into a tube:
You'll wind up with a skinny tube of cardboard, wrapped in tissue paper and completely covered in book tape.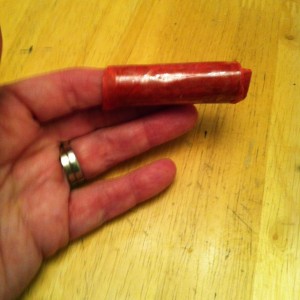 All you need to do next is glue on some paper faces!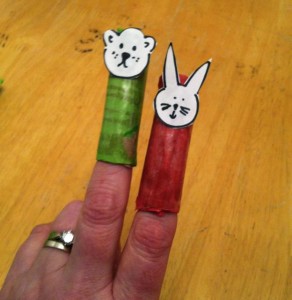 After I made the tissue paper versions, I saw one of my daughter's rolls of duct tape lying around the house and realized colored duct tape would combine two steps into one. Just wrap a short length of duct tape around the cardboard as you curl it into a tube: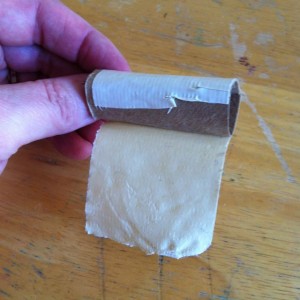 (Michael's sells jaguar- and zebra-print duct tape. Just sayin'.)
This guy has a felt face! A dot of hot glue would help felt stick to the duct tape.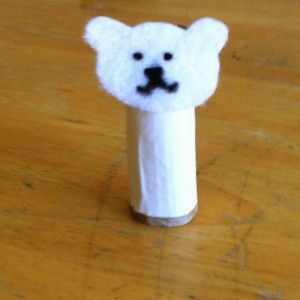 There you go! Quick and inexpensive preschool sized finger puppets.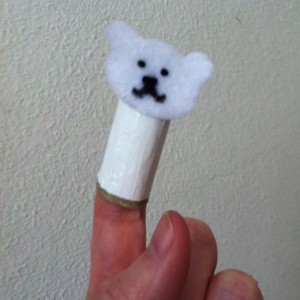 Here's my sheet of little faces to get you started.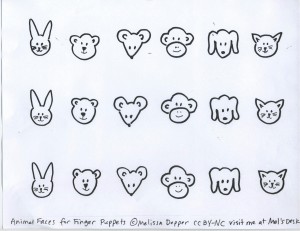 Now…why do I want every child to have a finger puppet in storytime? Because you can all make your animals play follow the leader, and go up and go down, go around in big circles, and move straight across from left to right. These are directional phrases children will need to understand when they start following their teachers' instructions for writing the letters of the alphabet!
Lisa's got the round up today over at Libraryland! Check out the Flannel Friday website for all sorts of info.
Happy Summer!