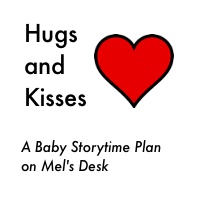 Here's a Valentine's storytime!
OPENING SONG: Hello Song*
OPENING FINGERPLAY: Open Them Shut Them*
BOOK: I Kissed the Baby! by MURPHY
The repetitive text and the bold black and white images make this a great choice for baby storytime.
ACTIVITY: Animal Kisses
This is easy…after reading about all the animals in I Kissed The Baby!, then we talked about how we would kiss if we were different animals! You could print out photos of the different animals from clip art and hold them up as you talk about each one.
Bunny kisses: rub noses
Butterfly kisses: brush eyelashes on cheek
Puppy dog kisses: a little lick on the cheek!
Goldfish kisses: suck in your cheeks and kiss on the lips!
Billy goat kisses: gently bump foreheads
And of course…
End with a big bear hug!
FLANNEL SONG: A Hunting We Will Go*
Today we used goat/boat, fish/dish, dog/log, and bear/chair
PHOTO CARDS: Red Things
I printed out images of objects that are associated with the color red on 8.5 x 11 paper, and then said, "The color red is important on Valentine's Day! Let's look at some things that are red. The fire engine is red…" etc. I had a stop sign, an apple, a rose, and I ended with a valentine, which led us right into the next song.
FLANNEL: Down Around the Corner
I've told you before how much I rely on this song! Sing it to "Five Little Ducks Went Out to Play." Today we shopped for Valentines, of course. Every time I took one from the flannelboard, I described it: "This is the valentine with POLKA DOTS!"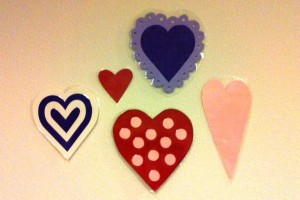 Down around the corner at the general store
Were five valentines and not one more
Along came someone with a nickel to pay
And they bought a valentine and they took it away
LITERACY TIP: Vocabulary
When you're talking about Valentines today, make sure to use lots of describing words! Lacy, big, red, pink, polka-dotted, fuzzy, silly…the more words our babies hear, the bigger their vocabularies will be, and the easier it will be for them to sound out words when they see them for the first time in print.
BOOK: I Will Kiss You (Lots & Lots & Lots!) by HAMPLE
I skipped a section or two of this, but I read the page about being naked in the bathtub! Everyone likes that one.
BOUNCE: Up Up Up
Very simple!
Up up up in the sky like this
lift baby in the air, facing you
Down down down for a great big kiss
Lower baby down again and give a kiss
Up like this
Lift up
Down for a kiss
Lower down
You're my special baby!
Tell parents that when they do this, they can substitute their own nicknames for their baby in this last line. "You're my sweet potato!" "You're my angel face!" "You're my little dude!"
ACTION RHYME: This is Big Big Big*
CLOSING SONG: Sneeze Game*
*Check out the My Baby Storytime page for the words and/or citations for these weekly activities!