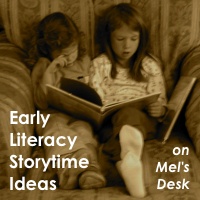 Here's a way to model talking with kids during your storytime! Lots of families play games like "I Spy" together already. Just add a comment to the grownups in your storytime to help them learn how it helps their children get ready to read.
Before you read a book in storytime, tell the children you want them to look for something in the illustrations: maybe the yellow dog in "I Went Walking," or the red hat in "I Want My Hat Back." After you've read the book, tell them, "You guys were great noticers! You found that red hat right away. Let's see what else we can notice in our storytime room." Have them cup their hands around their eyes like binoculars and look around the room. "Can you find the clock on the wall? Tell someone you're with what color you see on the clock." Or, "Can you find something red? Tell someone you're with what it is."
After you've played a few times, tell the grown ups, "Children have an easier time reading a word if it's a word they've heard and they've said. Playing games like this give them a chance to practice saying the words they know. Talking with your children will help them get ready to read."
If you want, make telescopes or binoculars out of toilet paper tubes and hand them out to the children before you begin!