It's been a long time since I had time to plan out a baby storytime from the ground up. I always like to do an all-singing storytime during our "Sing" month, but it's been 6 years since I put together my last Songs storytime! It was fun to freshen it up. I asked on Twitter for favorite books to sing, and Missi (@miswatts) mentioned Jamberry…so that's what I built the storytime around. Thanks, Missi!
OPENING SONG: Hello Song*
OPENING FINGERPLAY: Open Them Shut Them*
BOOK: Jamberry by DEGEN
I tested a couple different tunes with the text and liked "Hush Little Baby," which did fit the meter, but my husband (who after 20 years of listening to me talk about storytime not surprisingly now has storytime opinions of his own) thought that a lullaby was a little quiet for a book with so much boisterous action. So I tried "London Bridge" instead, which also fits, and is a little perkier.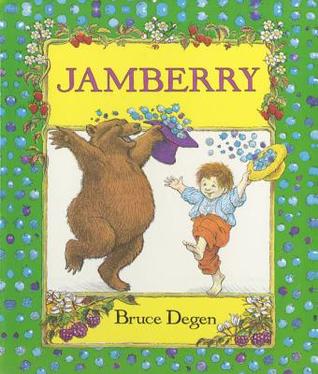 FLANNEL SONG: Down Around the Corner
I made a flannelboard with a raspberry, blackberry, blueberry, and gooseberry. The strawberry and cherries are borrowed from other sets. I wasn't very careful about relative sizing! I chose five of the six for this song.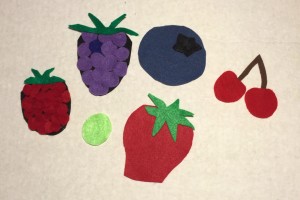 Down around the corner at the grocery store
Were five little berries and not one more
Along came someone with a nickel to pay
And they bought a little berry and they took it away.
ACTION SONG: The Green Grass Grew All Around
I changed this traditional song a bit to be about an apple tree, and led into it by talking about how lots of berries grown on bushes but some fruit we eat grows on trees. You can sing this song as a call-and-response, with the group repeating each line after the leader sings it, and without any prompting from me, that's what my group did today! It was SUPER FUN. I felt like I was at Girl Scout camp again.
I did use arm motions for this, less because I think my babies are going to be able to follow along, and more to give them something to look at while I sing, and to show the grownups that it's easy to add simple motions to the songs they sing. My motions were: tree = arms in circle over head; hole = arms in circle in front of torso (like ballet position 1); branch = one arm out to side with fingers spread; apple = one arm out to side with fingers rounded into a circle; ground = both arms stretched out to the side; green grass = wiggly fingers all around!
The green grass grew all around all around
And the green grass grew all around.

There was a tree
An apple tree
The prettiest tree
That you ever did see

And the tree in a hole and the hole in the ground
And the green grass grew all around all around
And the green grass grew all around.

And on that tree
There was a branch
The prettiest branch
That you ever did see

And the branch on the tree and the tree in a hole and the hole in the ground
And the green grass grew all around all around
And the green grass grew all around.

And on that branch
There was an apple…
FLANNEL CHANT: Green Apple Green Apple What Do You See?
Sorry I didn't take a picture of this! After we sang Green Grass, I put up the green apple from my Very Hungry Caterpillar set and we did a "Brown Bear" chant with the apple, pear, plum, strawberry from the VHC set and the blackberry, blueberry, and raspberry from my new Berry set.
Green apple, green apple, what do you see?
I see a yellow pear looking at me!
Etc.
FLANNEL SONG: A Hunting We Will Go*
Today since we were talking about colorful berries and fruits I chose colorful animals: brown bear, green frog, blue whale, red fox.
BOOK: Row Row Row Your Boat by CABRERA
This book starts with the traditional verse, then on other pages Jane Cabrera wrote additional original verses. What worked nicely was for me to turn the page, prompt the kids to look for the animal on each page, then read out the new lyrics, then we all sang it together.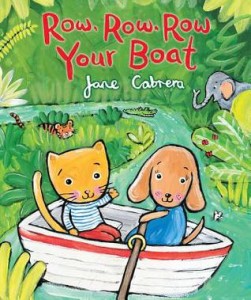 FLANNEL SONG: In a Lily Pond I Lay
I learned this lovely song from an Elizabeth Mitchell CD. The clouds reverse to the stars, and the sun reverses to the moon. It's the same tune as Twinkle Twinkle, so we sang that next.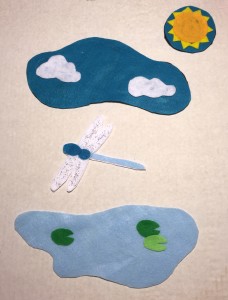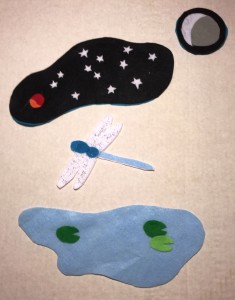 In a lily pond I lay
All upon a summer's day
And I chased a dragonfly
All across an ancient sky.

Falling with a thousand stars
Down the Milky Way to Mars
Back again in time for day
in a lily pond I lay.
FINGERPLAY: Twinkle Twinkle Little Star
LITERACY TIP: Singing
Parents, we sing so much in storytime because singing is awesome for our babies' brains. Songs give children practice listening and trying out basic sentence patterns, expose them to great vocabulary in context, and help children learn to hear that words can be broken up into syllables, and then separate sounds, which is a skill they will need when they are sounding out words when they read. Singing is a powerful way to help your baby get ready to read.
ACTION RHYME: This is Big Big Big*
CLOSING SONG: Sneeze Game*
*Check out the My Baby Storytime page for the words and/or citations for these weekly activities!