Hey all, here is a last-minute entry for the Flannel Friday Shark Week Round Up! Thanks to my teens who helped me develop this idea while we were driving around yesterday.
14yo: I think it's funny that you're still using us for storytime ideas.
Me: Of course I am, what would I do without you?
17yo: …have really lackluster storytimes???
Me: *thinks fondly of the pre-snark parenting years*
ANYWAY.
This is a simple re-write of "One Elephant Went Out to Play" (or "One Dinosaur Went Out to Play") with two different types of simple props for the kids. Sing it to "Five Little Ducks Went Out One Day."
One Little Shark

[sing] One little shark went out to play
On a tidal wave one day
She had such tremendous fun
That she called for another little shark to come:

[yell] Oooooh, SHHHHHAAAAAAARRRRK!

[sing] Two little sharks…
You can have the kids stand up and act this out without props.
First line: Hold up finger/s for the number of sharks, then put palms together over your head to make a fin.
Second line: With fin in place, bob knees so you are riding up and down on the wave.
Third/fourth line: Motion with hand like you're waving someone to come over
Yelling line: Hold hands to mouth, call out, "Oh, Shark!" Then snap palms together like shark teeth! Or, wiggle like you're swimming!
You can also make some simple props for the kids to use. You can make a shark fin on a pop stick: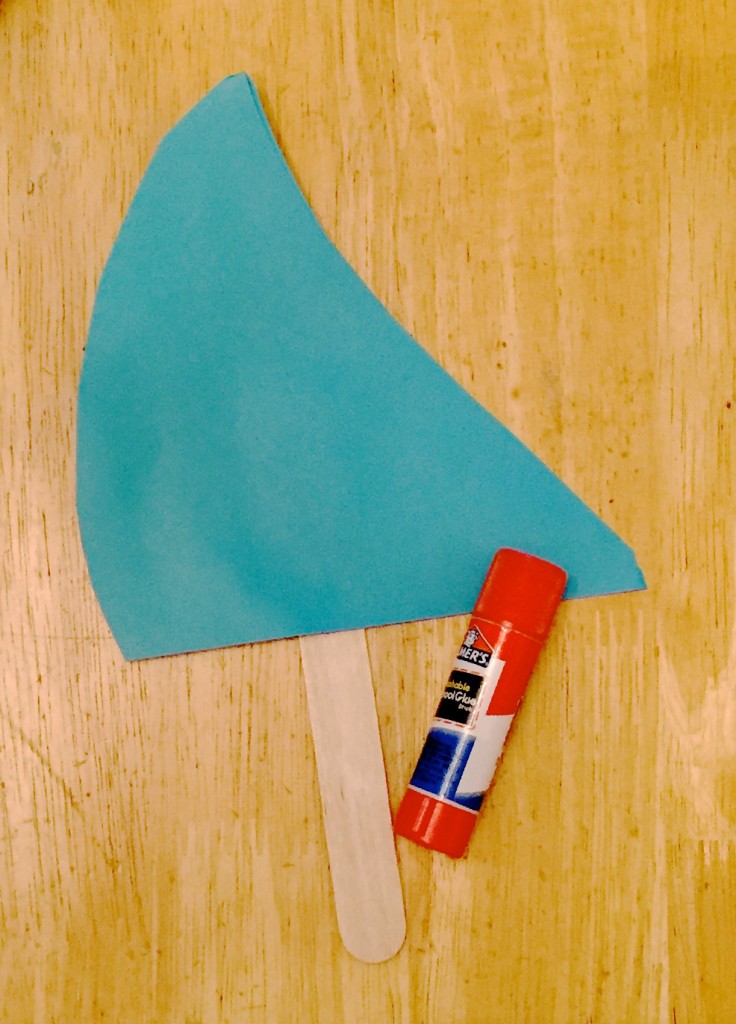 These are cut from 6×6 squares of construction paper and glued together on either side of a large pop stick. You could make one for each child and hand them out. The kids can hold up the shark fin over their heads. Then it's a little trickier for them to do the motions, but you can always be the one doing the motions while they sing, bounce, and yell.
OR, you could try making shark fin hats. I did NOT test this out on a small-size child, but I did try to fit one on my teens and it ALMOST fits so maybe it would work for smaller heads.
These hats are cut from two 9×12 pieces of construction paper, and just stapled around the convex curve with ONE staple at the top of the concave curve. (The photo below shows 2 staples but I took one out afterwards.) The open space in the back of the fin is what I *hope* would allow different-sized child-size heads to keep this on.
Here is Thomas the dog modeling the hat! *IF* the hats fit AND stay on, then the child could have hands free to do the motions of the song. Plus I think a room full of waist-high shark fins would look pretty funny. I will take the hat to Monday's storytime and test it on a toddler!
In the meantime, check out all the other Shark Week posts at Kelly's blog Ms Kelly at the Library. All things Flannel Friday can be found at our webpage.