I wasn't sure if this would come together, but here it is! Short but sweet!
OPENING SONG: Hello Song*
OPENING FINGERPLAY: Open Them Shut Them*
BOOK: Say Hello! by ISADORA
Carmelita walks around the block with her dog, and says hello to her neighbors in different languages. I listened to clips online of the ones I didn't know to make sure I could say them smoothly. I love the Internet!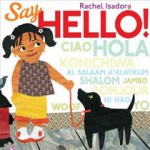 SONG: Frere Jacques / Are You Sleeping?
I used a big bear puppet and a little bear puppet and had them sing to each other, to add some visual interest.
FLANNEL SONG: A Hunting We Will Go*
Today we used bear/chair, dog/frog, hen/pen, and cat/hat.
BOOK: My Aunt Came Back by CUMMINGS
I love this board book. It inspired a clip art flannelboard, but I didn't use it with the babies today. I just sang the book and had the grownups sing the responses back to me.
LITERACY TIP: Print Motivation
Sign up for our summer reading program and your baby can get a free board book! The more books in a house, the better readers the kids in it turn out to be!
SONG: Los pollitos dicen
I played this on CD while we used egg shakers and moved our bodies. I also tried my darnedest to learn it so I could really sing along! Here's the site I used, with a cute video of the song. In storytime, I played Elizabeth Mitchell's version from her CD "You Are My Little Bird." If you don't know Mitchell yet, GO RIGHT NOW AND LISTEN. Her voice is gorgeous.
Los pollitos dicen, pio pio pio
Cuando tienen hambre, cuando tienen frio.
La gallina busca el maiz y el trigo
Les da la comida y les presta abrigo.
Bajo sus dos alas acurrucaditos
Hasta el otro dia duerman los pollitos.
ACTION RHYME: This is Big Big Big*
CLOSING SONG: Sneeze Game*
*Check out the My Baby Storytime page for the words and/or citations for these weekly activities!