I'm all done with my school Summer Reading visits! I spent months this year trying to decide how to do what I wanted to do. Summer visits are pretty much the only time I learn a story to tell, and I always want it to be something that I'm going to have a lot of fun with. This year the first thing that came to mind for the One World Many Stories CSRP theme was a DIY Cinderella story. A few years ago I bought my daughter a copy of Glass Slipper, Gold Sandal: A Worldwide Cinderella, by Paul Fleischman and Judy Paschkis. Together the author and illustrator stitch together details from over a dozen versions of the Cinderella story from around the world into a single narrative.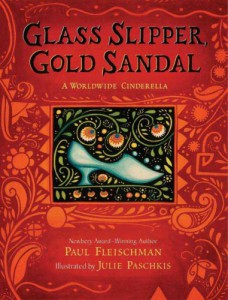 Though it has mixed reviews because some readers find it confusing and low on young child appeal, my girls and I love it. I don't think it was meant to be read as a Cinderella story for young children, I think it is meant to be read as a celebration of diversity, and an invitation to exploration, by older children, teens, and adults. And that's what I wanted to do this year: celebrate all the different variations of this story we know so well. But I wasn't sure how to do this in 10 minutes! I was stuck for a long time because I wanted to invite some kids up to the front to hold pictures of the different variations, but I knew I couldn't count on having a stage, or really, on any room at all: sometimes we are all squeezed into the library and the first row of kids is sitting ten inches from my toes.
I was really encouraged when I saw on PUBYAC that someone else had the same idea, but in addition to not being able to rely on having a stage, I wasn't going to have an assistant with me, so I needed to keep thinking. Finally I decided on making smaller pictures rather than poster-sized ones, so that I could hold them more easily, and realized that if they were smaller, I could attach them together like a book and flip easily from picture to picture.
My family helped me decide which elements from the story we would use: the impossible chore Cinderella was given before she could go to the ball, the magic creature who helped her, what she wore on her feet, and how she got to the ball. I sat down to read about 20 different Cinderellas to do my research and take some notes!
Then I had the really fun part of making the pictures! I have discovered in the process of making my homemade big books that using cut-paper collage works well for me. By some quirk I'm a better free-hand cutter-out-er than I am a draw-er, and using construction paper allows me to use all sorts of crutches (using clip art as templates, starting with a very basic shape and cutting down, building complicated images from smaller basic shapes) that I can't use while sketching.
I think it took about 8 hours from the time I started cutting to when I finished gluing, maybe more like 10. I started at work and finished at home. That doesn't include all the back-burner time I spent before that thinking about how I wanted the pictures to look. I'm really happy with how they turned out. There are four different "books." I glued images back to back, and glued a flap in between each pair, so that they can open and close backwards and forwards and I could have any image that I wanted facing out. I built them on cardstock, and they are sturdy enough I will be able to use them for years.
Chores:
Pots and pans, for general housework, from the traditional French
Wash the linens at the river, from Egypt (The Egyptian Cinderella/Climo)
Weed the rice field, from Korea (The Korean Cinderella/Climo)
Pick lentils out of the ashes, from Germany (Cinderella: The Oryx Multicultural Folktale Series/Sierra)
Magic Helper:
Crocodile, from the Philippines and Indonesia (Gift of the Crocodile/Sierra)
Fairy Godmother, from France
Fish, from China (Yeh-Shen/Louie)
Birch tree, from Russia (Glass Slipper, Gold Sandal/Fleischman)
Shoes:
Diamond anklets, from India (Glass Slipper, Gold Sandal/Fleischman)
Glass slipper, from France
Golden sandal, from the Middle East (Glass Slipper, Gold Sandal/Fleischman)
Moccasin, from Native America [I cheated on this one, in these tales Cinderella actually wears worn-out moccasins, not nice beaded ones] (Rough-Face Girl/Martin)
Conveyance:
Pumpkin coach, from France
Walking, from many versions, including Spanish-America (Little Gold Star/San Souci)
Horse, from Finland (Cinderella: The Oryx Multicultural Folktale Series/Sierra)
Breadfruit coach, from the Caribbean (Cendrillon/San Souci)
I developed a really abbreviated version of the story that would let me spend time with these elements and skip over everything else. I had the kids fill in the blanks with the pieces they knew as I went along.
Once upon a time, there lived a girl whose father died and left her to live with __________ and _________ . They treated her ___________ and made her do __________ . One day, the household heard about a fancy _________ ….
When I got to the chores, I held up the pots and pans picture, and we talked about what they knew about that part of the story. Then I said, "But it's not always washing the dishes that keeps Cinderella from the ball! In Korea, she has to weed the rice fields." And I'd flip to that picture. We went through all four pictures, talking about them ("What's a lentil?") then I would ask which one we should use in our story. Of course everybody yelled at once, but it was usually pretty clear which one was a strong candidate. Once in awhile I had them raise hands. If I couldn't hear one thing over another, I just chose one myself! Then I propped up that image (on a stage, on a library shelf) and went on with the story.
Here we are choosing the last piece. You can see the others set on the stage behind me.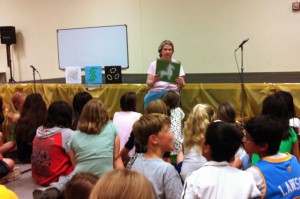 After we chose all four elements, we skipped right along through the ball/midnight/lost slipper/search/fitting part of the story, and we all said, "happily ever after" together, and I went on with the details for our summer reading program.
I loved this. I loved that I didn't have to really memorize anything, I loved that they got a chance to participate, I loved that we talked about a bunch of stuff as we went along ("Do you know why they called her Cinderella?" "What's a breadfruit?"), and I loved that the times when they interrupted me and said, "No, that's not how it goes," I could say, "Actually, there are LOTS of different ways to tell this!" I loved that when there were kids from Korea or India or Russia, we could choose those elements for our story. I loved that it worked with everyone from Kindergarten through even the so-done-with-it-all 5th graders….
…who wanted to stay after and put the story together in their own way.