Another day of learning about same & different, to help build Letter Knowledge!
OPENING SONG: Hello Song*
OPENING FINGERPLAY: Open Them Shut Them*
BOOK: Little White Fish Gets Bigger by GUIDO VAN GENECHTEN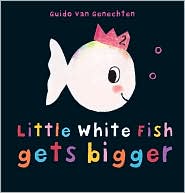 This is a super cute board book I was lucky enough to come across on the Barnes & Noble bargain table…I don't know that they are still available, which is a shame, because this series is PERFECT for baby storytime! Bold pictures, repetitive text, simple story.
FLANNEL SONG: A Hunting We Will Go*
I tried to use animals that were in Little White Fish: fish/dish, whale/pail, crab/cab.
SONG: Three Little Fishies
I love this song, it always makes me happy to sing the doot-doots. While I was researching versions and hand-motions, I came across Miss Marilee's Music, a site with some great videos of kids singing songs as well as some super music-and-movement ideas! Here's Miss Marilee's video and this is the version I wound up singing today:
Down in the meadow in a little bitty pool
Lived 3 little fishies and their momma fishy too
"Swim," said the momma fish, "Swim if you can!"
And they swam and they swam right over the dam.

Doot doot dittum dattum wattum choo
Doot doot dittum dattum wattum choo
Doot doot dittum dattum wattum choo
And they swam and they swam right over the dam.

Stop! Said the momma fish, "Or you will get lost!"
But the 3 little fishies didn't wanna get bossed!
The 3 little fishies went off on a spree
And they swam and they swam right out to the sea.

They swam and they swam and it was a lark
Then all of a sudden, they saw a BIG shark!
Back to the pool in the meadow they swam
And they swam and they swam back over the dam!
BOOK: Maisy Big, Maisy Small by LUCY COUSINS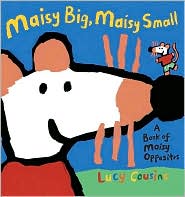 LITERACY TIP: Letter Knowledge
Books are great ways to introduce new concepts to little ones, but babies REALLY learn by doing! Acting out opposites helps them understand their meanings. Understanding differences is the first step to being able to recognize and understand the differences in how the letters look!
ACTIVITY: Roll, Roll, Sugar Babies
Thanks to Reading Chick for teaching me this one!
Roll roll sugar babies
Roll roll sugar babies
Roll babies hands over each other like Wheels on the Bus
Push
Gently push baby's arms…lean forward or back if they are sitting on your lap, or pull on their arms if they are lying on their backs. Remember to make sure the motion is "pushing" from their point of view!
Pull
Gently pull baby's arms
Clap clap clap
Clap!

You can also do other opposites together, like "Up" and "Down" and "Right" and "Left".
BOUNCE: Royal Duke of York
Oh, the royal Duke of York
He had ten thousand men
Bounce baby in lap
He marched them up the mountaintop
Lift baby up!
And marched them down again
Set baby in your lap again
Oh, when you're up, you're up
Lift baby up!
And when you're down, you're down
Set baby in your lap again
And when you're only halfway up
You're neither up nor down!
Bounce baby in lap
ACTION RHYME: This is Big Big Big*
CLOSING SONG: Sneeze Game*
*Check out the My Baby Storytime page for the words and/or citations for these weekly activities!