I've been lucky enough to have a weekly baby storytime for five years now! (Click on the "My Baby Storytime" category to the right for all my plans.) Here's some of the posts I've written about how I do my baby storytime, as well as a link to a baby storytime resource page I put together for the Colorado Libraries for Early Literacy website.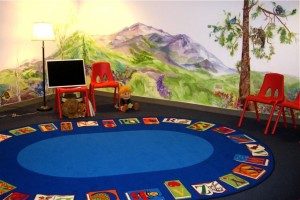 My Baby Storytime
My basic game plan for every storytime I do!
Favorite Songs and Rhymes for Baby Storytime
The twenty songs, rhymes, and bounces I use over and over again.
Why I Use Themes for Baby Storytime
Some librarians recommend not using themes for baby storytime, but despite that advice, I do…here's why.

Extended Play Storytime Post: Transitions
Wondering what someone else says in baby storytime to the grownups? Here's a transcript of almost every single word from one of my storytimes.
Baby Storytime Books
This is a link to my Baby Storytime Shelf on Goodreads! What am I missing?
Colorado Libraries for Early Literacy: Baby Storytimes
A starter set of resources for baby storytime providers! These pages include a list of recommended planning books, links to web resources, pointers to great books for babies, and baby storytime curricula available for purchase.
What are your favorite baby storytime resources?