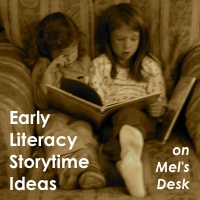 Being able to put the events in a story in sequential order is part of narrative skills. It's related to comprehension skills because if you have a good understanding of a story or an event, you will be able to link the events or ideas together in order. Songs and books that introduce the idea of a cumulative list are one way to practice this skill with young children.
Some cumulative song ideas:
The Green Grass Grew All Around
I Know an Old Lady Who Swallowed a Fly
Hole in the Middle of the Road
Fiddle-I-Fee
Rattlin' Bog
If you choose to read a book, remember that these stories have a tendency to get pretty long, so practice first to see if it will fit well with your storytime plan.
Some cumulative book ideas are here.
After you share a cumulative book, song, or flannelboard with your children, share something like this with the adults: "Parents, when you read or sing cumulative books or songs with your children, they start to learn how to put ideas in order. This helps them become a good reader because sequencing events is one part of comprehension skills."