Earlier this week I tweeted about using the This is Big Big Big rhyme for the baby storytime I was subbing for, which prompted this discovery:
So I had to go back and try to figure out when I wrote "This is Big Big Big" and this is a little freaky–the first mention of it on my blog was in my very first post, 4/6/09, exactly 10 years ago this week! https://t.co/rSFWVeULey

— MelissaZD (@MelissaZD) April 8, 2019
10 years! OK, even if 5 of those years have been rather dusty that's still a pretty cool anniversary.
I would love to start posting regularly again, but can't yet make any commitments to a schedule. However in honor of my milestone, I thought I would post the plan for the storytime I did this week!
OPENING SONG: Good Morning*
OPENING FINGERPLAY: Open Them Shut Them*
BOOK: Tuck Me In by Dean Hacohen and Sherry Scharschmidt
Lift the flaps are always great for baby storytime. I also appreciate the less-usual animals like peacock, hedgehog, and moose (excellent for Colorado babies!)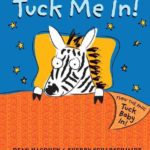 LITERACY TIP: Print Motivation
Learning to read is hard work! When we read books with lift the flap or touch and feel pages with our babies, we help pique their interest in and enjoyment of books. This enjoyment is important because the more they love reading, the easier it will be to stay motivated while learning to read.
SONG: When Pigs Get Up in the Morning
Fitting that I've been singing this song for 10 years too. It's from Seattle children's musician Nancy Stewart and you can listen to it on her site. I started with pigs because there was a baby pig in our book, then we did other familiar animals like ducks, dogs, and cats.
ACTION SONG: Roll Over!
Now that we're all awake let's roll out of bed!
There were three in the bed and the little one said,
"Roll over! Roll over!"
So they all rolled over and one fell out!

There were two in the bed…"
FLANNEL SONG: A Hunting We Will Go*
I desperately need to print and laminate a new set of my animal pairs. Usually I try to match the animals with our theme somehow, but today we used a really random selection that I have in my storytime bag…bear/chair, hen/pen, crow/snow, and duck/truck.
BOOK: Monkey and Me by Emily Gravett
One of those precious non-board book picture books that work perfectly for baby storytime. With the babies and the toddlers, I like to help hint at what animal we're going to see next, and point to the clues in the illustrations. "We're going to see an animal that stands on two feet and waddles." Since this is a sleepy storytime, on the last page I asked, "How do we know she's asleep? Right, her eyes are closed and she's not moving around like an animal!"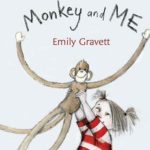 ACTION SONG: If You're Sleepy and You Know It
Sing to the tune of "If You're Happy and You Know It." I have become more and more fond of using simple piggyback songs that are easy for grownups to jump right in and sing with me without a lot of set up or explanation. I had us pause after singing each line to give the babies plenty of time to watch us yawn, stretch, and close our eyes, and time to organize their bodies to do the actions with us if they could.
If you're sleepy and you know it, give a yawn
If you're sleepy and you know it, give a yawn
If you're sleepy and you know it and you really want to show it
If you're sleepy and you know it, give a yawn.

If you're sleepy and you know it, stretch your arms…

If you're sleepy and you know it, close your eyes…
ACTION SONG: Twinkle Twinkle Little Star
Now that we're all quiet let's sing a quiet song.
ACTION RHYME: This is Big Big Big*
CLOSING SONG: Sneeze Game*
*Check out the My Baby Storytime page for the words and/or citations for these weekly activities!