Any excuse to sing The Rattlin' Bog! Actually I only do St Pat's for a theme if my storytime falls on the day itself. This has been sitting in my draft posts for a year or so, and I finally finished writing it this week!
OPENING SONG: Hello Song*
OPENING FINGERPLAY: Open Them Shut Them*
PHOTO CARDS: St Patrick's Day
Instead of looking for a St Patrick's Day book that would work for the babies, I collected photos from Microsoft Word clip art & printed them out on 8 1/2 x 11 paper. I found a harp, some clover, a rainbow, a pot of gold, and I wasn't quick enough to get a photo of a leprechaun, so I used clip art instead.
I show each picture to the babies, and just talk a little about them, modeling to the caregivers the way they might talk with their kids, even before their kids can really join in the conversation. My colleague Nick had the idea to clap out the syllables of the names of each item together as we talked…a great way to build phonological awareness.
LITERACY MESSAGE: Singing
Clapping once for each syllable in a word or a phrase helps children hear that words can "come apart" into smaller segments. Being able to hear the smaller parts of words is a critical skill in sounding out words when they read!
FLANNEL SONG: Over on the Hill
I cut out large (8″) shamrock shapes and laminated them for this song. My laminated shapes have a velcro dot on the back to stick them to the flannelboard. Sing to the tune of Five Little Ducks Went Out to Play.
Over on the hill in the grass so green
Were the five biggest shamrocks than I've ever seen
Along came someone on St Patrick's Day
And they picked a shamrock and took it away.
GUESSING GAME: Leprechaun, Are You in the Red House?
I used this set of construction paper houses, but hid a leprechaun instead of the Brown Bear. We looked behind every door for that leprechaun. He was in a green house, of course!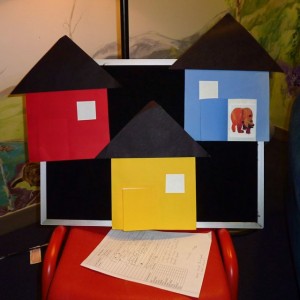 BOOK: Duckie's Rainbow by BARRY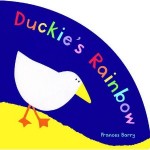 FLANNEL SONG: A Hunting We Will Go*
FLANNEL SONG: The Rattlin' Bog
Traditional. I love this song! Read more about it here.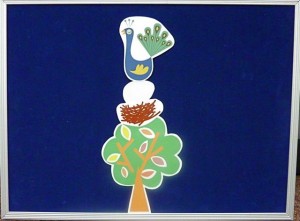 PHOTO CARDS: Green Things
More photos! I found clip art photos so we could talk about green things such as green beans, green grass, and a lizard.
SONG: Five Green and Speckled Frogs
Raffi has a classic version of this. You could use 5 flannelboard frogs for this song, or make a Storytime Paper Towel Tube Song Prop Thingy.
Five green and speckled frogs sat on a speckled log
Eating some most delicious bugs (yum yum)
One jumped into the pool where it was nice and cool
Then there were four green speckled frogs.

Four green and speckled frogs…
ACTION RHYME: This is Big Big Big*
CLOSING SONG: Sneeze Game*
*Check out the My Baby Storytime page for the words and/or citations for these weekly activities!