Is your summer off to a good start? This storytime actually turned out to be a little too long, and at each session I wound up skipping one or two things. But I like everything so much I kept it all in for this post!
OPENING SONG: Hello Song*
OPENING FINGERPLAY: Open Them Shut Them*
BOOK: Buzzy's Big Beach Book by ZIEFERT
This little picture book has two "chapters" in it. I read the second story, called "Brave Buzzy," which starts, "Daddy says, 'Okay Buzzy, let's get wet.' / But Buzzy isn't ready yet!"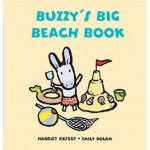 BOUNCE: Gonna Swim In the Ocean
I wrote this bounce a few years ago. I think it's fun to play when you're sitting with your baby on the edge of the wading pool. Bounce them on your lap, with your feet in the water, then dip their feet into the pool when you say "Wet!" In storytime you can just open your legs and dip babies between them.
Gonna swim in the ocean
Gonna fish with a net
Gonna wade in the water
And I'm gonna get WET!
PHOTO CARDS: Going to the Beach
Every once in awhile I show photos from clip art to the babies. Sometimes we sing a simple song, like today, other times we just talk about each photo. I think photo cards are a great way to model open ended questions for the grown-ups, and they help fill in a gap if you're not finding a great book you want to share. Sing this to "The Farmer in the Dell." Repeat for every photo, and stop and talk about each object before you go on. My photos are of red crabs, a seagull, a sailboat, a shovel and pail, and a seashell. I ended with the boat today so we could sing the rowboat song next!
I'm going to the beach
I'm going to the beach
I think I'll see a seagull there
I'm going to the beach.
ACTION SONG: Splashin' Up and Down
Sing to: "Bumpin' Up and Down In My Little Red Wagon"
Splashin' up and down in my little red rowboat
Splashin' up and down in my little red rowboat
Splashin' up and down in my little red rowboat
Won't you be my darling?
Bounce baby on your lap

Lookin' out to sea in my little red rowboat…
Shade eyes with your hand

Wavin' to a whale in my little red rowboat…
Wave!

Don't stand up or you might tip over!
Lean baby to right or left!
FLANNEL SONG: A Hunting We Will Go*
Today we started with goat/boat and bee/sea, then used bug/jug and frog/log, which hinted at our next book.
BOOK: Jump! by FISCHER
I included this book today because all the animals splash in the water at the end. Great way to cool off in the hot sunshine!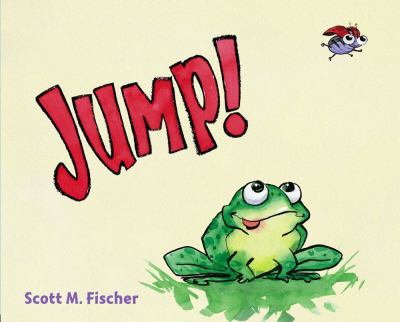 LITERACY TIP: Print Motivation
I'm still plugging our Baby and Toddler "Make a Splash!" Summer Reading Program for our literacy tip!
FLANNEL SONG: 5 Green and Speckled Frogs
FLANNEL: Summer Shapes
Read about this flannel over here!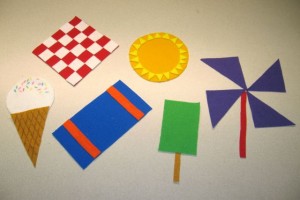 SONG WITH RATTLES: Mr Sun
I handed out egg shakers and we shook, rattled and rolled while Raffi sang "Mr Sun"!
ACTION RHYME: This is Big Big Big*
CLOSING SONG: Sneeze Game*
*Check out the My Baby Storytime page for the words and/or citations for these weekly activities!