OPENING SONG: Hello Song*
OPENING FINGERPLAY: Open Them Shut Them*
BOOK: What Will Fat Cat Sit On? by THOMAS
It's always a good day when you can read a Jan Thomas book!

LITERACY TIP: Print Awareness
When you have a book like What Will Fat Cat Sit On? that has really big words, point to them every now and then when you read. You will start to help your baby make the connection between the words that you say and the print on the page.
FLANNEL SONG: Down Around the Corner
I use this song over and over again. We go to different kinds of stores and buy different things! Sing it to "Five Little Ducks."
Down around the corner at my mom's pet store
Were five little cats and not one more
Along came someone with a nickel to pay
And they bought a little cat and they took it away.
ACTION RHYME: I Have Fur
This is one of the first rhymes I wrote when I started trying to make up my own!
I have fur upon my back
Pat baby's back
I have whiskers just like that
Trace whiskers on baby's cheeks
I have ears–I flick them twice
Hold up the first two fingers of each hand on your head so baby can see your "ears" or touch baby's ears
I have paws for catching mice!
Hold your hands in front of you like paws, then clap them together when you say "catching!"
FLANNEL SONG: A Hunting We Will Go*
Today we used cat/hat, parrot/carrot, fish/dish, and dog/log
BOOK: Doggies by Boynton
I made a homemade big book out of this favorite board book.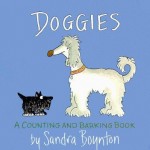 GUESSING GAME: Little Dog, Are You In the Green House?
Follow the link for more about this activity!
BOUNCE: Ride Away
Ride away ride away
Bounce baby on lap
Johnny will ride
He shall have a pussycat
Tied to one side
Slip baby to one side
He shall have a puppy dog
Tied to the other
Slip baby to the other side!
And Johnny will ride to see his grandmother
ACTION RHYME: This is Big Big Big*
CLOSING SONG: Sneeze Game*
*Check out the My Baby Storytime page for the words and/or citations for these weekly activities!