I have been working with a phenomenal group of librarians this year, launching the brand-new Bell Picture Book Awards.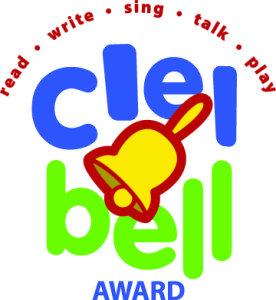 Our very first annual awards will be announced February 5, 2014, and we're getting pretty excited. We will announce one book to represent each category of Read, Write, Sing, Talk, and Play. The winners will be chosen from our shortlists, which were announced last month.
There are 25 books on the shortlists, five for each category, and I have to say the Selection Committee did an amazing job. If you are looking for strong titles for storytime, to recommend to local preschool teachers, or to add to your library's picture book collection, these books have lots of child appeal and built-in support for the types of early literacy interactions that we know build reading readiness skills.
CLEL Bell Picture Book Shortlists!
Find out more!
Bell Awards website at Colorado Libraries for Early Literacy
Want to know more about the Bell Awards and early literacy skills? Watch this webinar I presented with Early Childhood Investigations for the Follett Early Learning Growing Readers Series. (Another free Bell Awards webinar is coming up February 26.)
CLEL Silver Bells: 25 books published in the last 25 years that support early literacy development in young children. Each Silver Bell title has a free downloadable information sheet with activity ideas to extend the book.
Bell Awards Blog Tour: last fall 5 children's library bloggers talked about books they liked for each of the five Bell Award categories.
Show Me Librarian: WRITE
Great Kid Books: TALK
Jbrary: SING
LibLaura5: READ
Future Librarian Superhero: PLAY
_________
Unrelated PS: I'm running a Reader Survey for Mel's Desk–read about why and take the survey! Thank you!