Here's something I've been meaning to do since LAST fall's Shapes storytime: write out a storytime post that includes everything I say in between all the books and activities. How do you get from one thing to the next?
Today's theme is Shapes, which is one of the ways I like to support Letter Knowledge during baby storytime.
So here's what we did today. Wherever you see >>>, that's where I'm adding in my verbal transitions from activity to activity. You can see that one of the reasons I like to use a theme for baby storytime is it provides me with material to ramble about while I'm putting away one thing and getting out the next.
When you see brackets [ ], that's where I'm describing my actions, or making some other sort of aside to you.
Here we go!
>>>Good morning everyone! Welcome to storytime! It's so good to see you guys. Yay! [clap hands] My name is Miss Melissa, and I do the storytimes here on Monday mornings. For this storytime, it is completely age-appropriate for babies and toddlers to crawl and walk around, and I don't mind a bit if they do. Their brains are still gathering information even if it doesn't look like they are! I have a blue rug up here by the flannelboard, and this is the one space that we try to keep clear so everyone can see what's going on. If your baby walks or crawls onto this rug, please come and re-direct them or take them back to your seat. Anything else is okay!
We have some new friends with us today, so let's go around and say our names and the names of our babies. My name is Melissa, and this is my friend Tommy [show puppet] who helps me with storytimes. Let's start over here, will you tell us your name?
[We don't sit in a very neat circle, so I help move the name-sharing along by waving at the next group. I say hello to the babies, using their names, and sometimes make a comment.]
Wonderful! Welcome everyone! [clap hands. Yes, we clap and cheer A LOT in baby storytime.] We are going to talk about Shapes today! But before we get started, we're going to sing our Hello Song! For those of you who are new or would like to see what we're doing, there are song sheets on the chairs behind us. You're welcome to grab one and take them home. [Cue CD]
Are you ready to wave hello? Here we go!
OPENING SONG: Hello Song*
>>>[While we sing and act out the song, I will try say something to as many of the babies as I can, using their names. Things like, "Oh, Angela found her toes!" Or, "Way to wiggle, Caleb!" When the song is over, we clap and cheer. Yay!]
That was good singing! Did we wiggle our bottoms? [wiggle in chair] Did we wiggle our toes? [wag feet in the air] Can you wiggle your fingers? Where are your fingers! Good job! Are you ready to open them? [spread fingers wide to get ready for Open Them Shut Them.]
OPENING FINGERPLAY: Open Them Shut Them*
[Yes, we clap and cheer now too.]
>>>All right! I told you we were going to talk about shapes today, and our first book is called It Looked Like Spilt Milk, by Charles Shaw. Let's see what kind of shapes are inside.
BOOK: It Looked Like Spilt Milk by CHARLES SHAW
>>>It wasn't spilt milk, it was a cloud! We have clouds in our storytime room. Look up at the round ceiling. Do you see the white clouds on the blue wall? [Our cathedral ceiling has some blue sky and clouds painted around the rim.] Way up high.
We're going to look for another cloud. [Start putting flannel pieces on board.] Where is Little Cloud today?
GUESSING GAME: Where Is Little Cloud?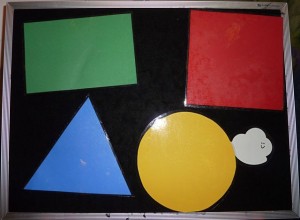 >>>Little Cloud, are you behind the green rectangle? Where is the green rectangle? A rectangle has four straight sides and four corners. Here it is! [Take off shape.] No Little Cloud! Little Cloud, are you behind the red square? Where's the red square? A square also has four sides, but they are all the same size. [Take off shape.] Oh, no! No Little Cloud! Little Cloud, where are you? Are you behind the blue triangle? A triangle has three sides and three points. [Take off shape] Still no Little Cloud! Little Cloud, are you behind the yellow circle? A circle doesn't have any straight sides, it is round and curvy. [Take off shape.] Yes! Little Cloud, there you are! Good job, we found Little Cloud!
[With the babies, I do not pause very long after I ask the questions in this flannel, unless I have an older sibling who I am pretty sure will know their shapes. Then I'll look at them when I ask and see if they want to answer. Mostly I'm interested in modeling the idea for parents that they can ask their babies questions, even if they aren't going to answer with words.]

[Hold up the triangle and the circle shapes]
LITERACY TIP: Letter Knowledge
>>>Grown ups, our very little babies are too young to really understand letters yet, but talking about shapes with your babies helps them get ready to learn letters later on! The same skill they use to tell Triangles and Circles apart will help them tell the difference between As and Os. So go ahead and describe shapes as you're playing together!
Let's look at some more shapes! [Put up flannels for next song] Here is a dish, it is a round circle. Here is a house, it has a triangle for a roof. Here is a fence, a pen. It has straight lines. And here is a Jeep, it has circles for headlights and a rectangle for a windshield. All sorts of shapes! Now we have a fish for the dish and a mouse for the house and a hen for the pen and a sheep for the Jeep. Are you ready to bounce? Find a lap! We're going to sing A Hunting We Will Go!
FLANNEL SONG: A Hunting We Will Go*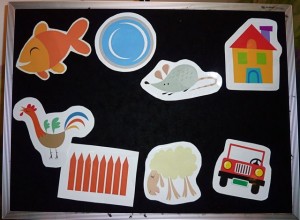 >>>OK, I'm going to put away these shapes [Take flannel pieces off the board] and we're going to get out another book with shapes in it! This book is Chicka Chicka Boom Boom. The shapes in this book are letters! Here we go!
BOOK: Chicka Chicka Boom Boom by MARTIN/EHLERT [I used the large board book format today, which ends when all the letters fall out of the tree.]
>>>Chicka chicka boom boom! There wasn't enough room in the tree after all. All the letters fell down! I know a song about all the letters, and I bet you do too. Let's sing the ABC song.
SONG: ABC SONG To the tune of Twinkle Twinkle
>>>Yay! Good singing! Grown ups, we don't want to drill these little ones on letter shapes, but singing the alphabet song is an age-appropriate way to start learning the letter names. You know how LMNOP all run together in that song and some kids think they're all the same letter? Well, you can sing the ABCs to the tune of Mary Had a Little Lamb, and it splits up the letter names in different ways. Like this:
SONG: ABC Song To the tune of Mary Had a Little Lamb
>>>Yay! Did you guys hear how that's different? So sometimes sing the ABCs both ways and it will help your child hear the names of the letters. Pretty cool trick, isn't it?
OK little ones, do you remember our coconut tree? Can you show me how big a tree is? [Stretch out arms to side] All right, it's time to do Big Big Big.
ACTION RHYME: This is Big Big Big*
>>>Good job! [Clap hands] Babies, we have one more song to sing today. For this song we need to find our eyes [touch eyes], our nose [touch nose], our ears [touch ears], and our lips [blow kiss]. Are you ready? [Cue CD] Let's touch our eyes! Here we go!
CLOSING SONG: Sneeze Game*
>>>All right, babies, thank you for coming to storytime! Grown ups, we know storytime is fabulous for little ones, thank you for bringing them to the library! We also know that children learn by playing, and they learn by playing and talking with you. So after every storytime, we have time to stay and play! I'm going to get our our pictures [put the flannelboard flat on the floor with the clip art pieces from storytime], and some books [a little pile of board books I keep by my chair in case a child needs a distraction during storytime], and our basket of toys! [Put basket in the middle of the floor] There are balls, and rings, and blocks! And of course I am here if you have any questions about reading or about the library. Let's see what we can do with all these wonderful toys, okay babies?
*WHEW*
That's it! After I get out the toys I sit on the floor and play with the babies and talk with the grown ups. Today I got to meet a 2 week old little sister and a 3 month old little brother of baby storytime graduates, so it was very fun to visit with those moms. Sometimes parents will use this time to ask me about what they should read to their child, or will want to talk with me about their child's behavior during storytime. Usually all they need is reassurance that their child is being age-appropriate, which 99.99% of the time they are. We play and talk for about twenty minutes or a half-hour, then after my 9.30 storytime I start to get organized for the 10.30 storytime, and after 10.30 storytime I start to pack up.
When I am planning my storytime, I write down everything I'm doing in order, and at this point I think about what I can say as a transition in between. Usually once I've thought of it I will remember it, but sometimes I go ahead and write a couple of key words from the transition down on the cheat sheet I use to keep track of what's coming next. When I have taken this step and I know how I'm going to ramble from song to book to fingerplay, I feel much more comfortable on stage and I feel that my storytime flows and maintains a nice pace.
What do you guys do to keep your storytime moving along? Do you plan out transitions in advance, or make them up on the spot? Or do you not worry about them?