I am SO almost done with the Fall Storytime Resource Packs…I just have one more Halloween flannel to share with you! This one is inspired by Anna's adaptation of Bob Staake's Hello Robots. In the book and in Anna's flannel, the robots and their jobs get all mixed up. I thought it would be fun to get some Halloween costumes all mixed up as well.
Here's some poor, bald, out-of-focus children ready to get dressed up for trick-or-treating: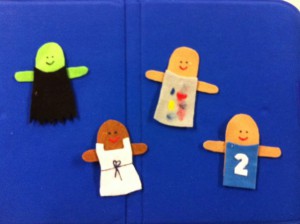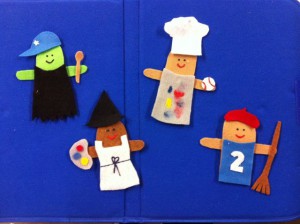 Oh no! They have picked up the wrong props and put on the wrong hats! Quelle horreur! (At least they are in focus now.) Have the children help you get everyone sorted out. "The witch is wearing a blue cap! Who wears a cap like this? A chef? An artist? No, a baseball player! Where is the ball player? Here she is, wearing a red beret. Who wears a hat like that?"
WHEW. Now the witch has a black hat and brown broom, the artist has a red beret and a gray palette, the cook has a chef's cap and a wooden spoon, and the baseball player has a ball cap and a baseball. FINALLY they can go trick-or-treating. Sheesh.
You can easily leave out the witch if you wish.
If you have a small group, you could also do this activity by putting the poor bald children on the board and handing out the hat and prop pieces to the kids. They can come up to the board one by one and put the pieces with the right people. UNLESS you have VERY SILLY storytime friends!
The clothes, hats, and props are my own designs, but the bodies and arms are based on Joan Hilyer Phelps' great people finger puppet patterns in her book FingerTales. I used puff paint for the eyes, mouths, paint smears on the smock, apron tie, baseball cap star detail, and the stitches on the baseball.
Have a great week!
The Round Up is in Tracey's capable hands this week over at 1234 More Storytimes! Anne graciously serves as home base for Flannel Friday at So Tomorrow. Check there for past Round Ups and the hosting schedule. Also don't forget we're on Pinterest, where Flannel Friday already has over 180 followers!