No pictures today because the week went by too darn fast! I'll add them when I can.
Today I have a new set of clip art for you: Bugs! There's a green inchworm and a yellow bee and a blue butterfly, a brown worm, an orange lightning bug, a purple dragonfly, and a red ladybug. Oh, and a black ant. They're pretty cute. Check out the Color and Counting Sets post for a few ideas of what to do with them.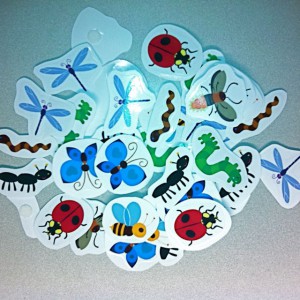 PLUS! Two more ideas:
Categories
I'm also including a couple of labels: One says "Crawls" and one says "Flies." You can put the labels up on either side of your flannelboard, and hand out all the bugs to the children. Ask them to think about their insect and decide if it is a flying bug or a crawling bug. Encourage them to talk it over with their grown-ups! Conversation is so amazing for building language skills!
Remember some of them will be tricky: The ladybug flies AND crawls, and you can't see its wings. Does the worm crawl, even though it doesn't have legs? So you can take the ladybug and the worm out of the mix for toddlers, if you'd like. When the kids have decided which category their bug belongs to, you can call them up and have them put their pieces under the right label. You can count which category has more insects in it. Are you noticing this sorting, comparing, and counting is early math? How cool!
Bug in the Rug
I was looking at old storytime idea books in our professional collection today, and found this idea in "Felt Board Fingerplays" (by Liz and Dick Wilmes, 1997), so I quick made a rug to add to this post!
Put one of each kind of insect on the flannelboard, and put the rug at the top. Have the children look at and name all the bugs, then tell them to close their eyes. (Miss Mary Liberry made up a perfect, simple keep-your-eyes-closed song you can sing during activities like this.) While they are not peeking, slip one of the bugs under the rug. Tell the children to open their eyes, and have them try to figure out which bug is missing. You could say a quick chant like, "Under the rug, under the rug, which little bug is under the rug?" Repeat this a few times with different bugs. Try sneaking two bugs under the rug!
(Ed. 11/11: I am no longer sharing my clip art files due to copyright concerns, so I've taken down the link to the files. However, if you search in Microsoft Word clip art you may find the original files I started with.)
Anne at So Tomorrow is hosting Flannel Friday this week, so keep an eye out over there for the Round Up! Thanks Anne!