I am working on refreshing our "Build It" storytime resource pack this week, and when I opened it up, I found a laminated magnet set of building blocks! These are photo images, printed & laminated, with a magnet on the back.
What a fun open-ended storytime idea!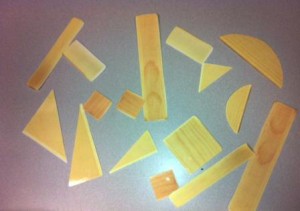 I know not every branch has a magnet board, so I made a set of flannel shapes to go along with. I made 3×3 squares and 3×5 rectangles. The triangles are cut from 3×5 rectangles and the half-circles are cut from 2×4 rectangles.
You can hand out one or two blocks to each child, and have them come up and "build" a castle on your flannelboard.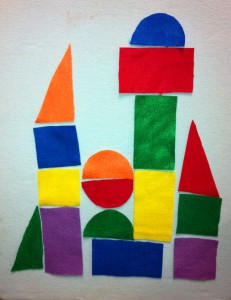 You could build a bridge instead, and think with the kids first about what you'll need to make the bridge (a support or ramp on each end, then a flat horizontal section in the middle). You could build a monster or robot together! Or you could have them bring all the rectangle blocks up first, then all the squares, and so forth, and just put them on the board without "building" anything. With the flannel shapes, you can have the kids sort by color as well. That might be good for a toddler group, rather than trying to coordinate one project.
This goes well in a Construction or a Building storytime, but you could pull this out for other storytimes too. You could make a car or a rocket together for Things That Go, or a castle in a Royalty storytime, or play with them during a Colors or Shapes storytime.
Update 11/17: I learned this week that the building blocks photo set was developed, created, and added to our Build It storytime kit by my colleague Julie! Julie's the one who shared her shoebox-and-clothespin Storybox idea with us this past summer. Thank you, Julie!
The round up this week is on Sharon's blog Rain Makes Applesauce. (If you have a contribution, leave a comment on her round up post with a link to your post. If you can't include it by the end of the day Friday, go ahead and wait to join next week's round up. This will make sure the most number of people see your post! If you are on Twitter, post your link, and use the #flannelfriday hashtag and also @readingchick)
Round up archives and host schedule is at So Tomorrow. Visually scan all the Flannel Friday posts at Pinterest. Talk about storytime and flannelboards at the Flannel Friday Facebook Page. Follow Flannel Friday on Twitter with the #flannelfriday hashtag. (You don't have to be on Twitter to check this out.) Last but not least, if you're a contributer, grab the blog button in the right hand menu here at Mel's Desk!