Happy December! Here are some colorful homemade "clip art" ornaments to decorate your flannelboard.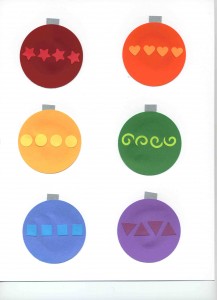 When I use clip art, I laminate it sandwiched with cardstock, and attach a velcro button on the back.
Print out multiple copies, enough so that everyone in your group may have one or two pieces. Hand them out, and if you like, ask the kids to talk to their grownups about what color their ornament is, or what shapes are decorating it.
You can say, "When we decorate a tree, we put the ornaments on the branches. But we don't have branches! Where should we put our ornaments? Should we put our ornament…on our NOSE? How about on our TUMMY?"
Instead of playing that game, you can ask everyone with a red ornament to come put it on the board, then blue, etc. You could say this rhyme first:
Way up high on the Christmas tree
A colorful ornament I did see
Shiny and round and pretty as could be
Bring all the red ornaments up to me
Here's the pdf file.
For other ideas about how to use this set, check out my Color & Counting post!
Library Quine is hosting our Holiday Extravaganza today from her blog in Scotland! Post your link on Twitter with @Library_Quine or leave the link at her blog Loons and Quines at Librarytime!
Round up archives and host schedule is at So Tomorrow. Visually scan all the Flannel Friday posts at Pinterest. Talk about storytime and flannelboards at the Flannel Friday Facebook Page. Follow Flannel Friday on Twitter with the #flannelfriday hashtag. (You don't have to be on Twitter to check this out.) Last but not least, if you're a contributer, grab the blog button in the right hand menu here at Mel's Desk!