Since I haven't been posting brand-new storytime plans lately (I've been reusing plans I've already posted here), I wanted to have a regular way to share some of the flannelboard clip art and patterns I have stored up.
Introducing Flannel Fridays!
On Fridays I will try to post a flannel rhyme, song, or activity, along with a pattern or file you can download. I know many of us really enjoy making our own pieces for storytime flannelboards, but I also know we are all pressed for time. These are just in case you need something you can grab and go! I'll tag the posts "Flannelboards" and also list all the files on this page.
For the first Flannel Friday, I just had to share "Down Around the Corner." I use this ALL THE TIME. I stole this one from my daughters' preschool! I don't do too many "Five Little Whatsit" rhymes anymore, but this counting song is my big exception. I sing it to the tune of "Five Little Ducks Went Out To Play," but you don't even have to sing it, you can chant it out instead. I use it over and over again. We go to all kinds of stores and buy all kinds of items, so it works in lots of storytimes.
Start with five shapes on your flannelboard…hats, teddy bears, flowers, whatever. Keep the five nickels in your hand.
Down Around the Corner
Down around the corner in the ___________ shop
Were 5 [little] _______________ with _______________ on top
Along came someone with a nickel to pay
And they bought a [little] _________________ and they took it away.
For each verse, take down one of your shapes and put up one of your nickels. Repeat for 4, 3, 2, 1.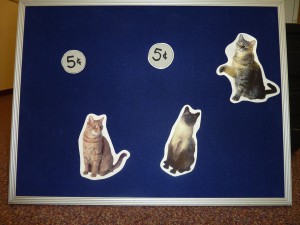 Here's some examples:
Down around the corner in the bakery shop
Were five little cookies with sprinkles on top…
Down around the corner in the neighborhood shop
Were five umbrellas with points on top…
Down around the corner at the second-hand shop
Were five teddy bears with their ears (or bows) on top…
Down around the corner at the pizzeria shop
Were five pizza slices with some cheese on top…
Another version:
If your shape or item doesn't have anything "on top" that you can sing about, go to a store instead of a shop!
Down around the corner at my mom's pet store
Were five little kittens and not one more…
Down around the corner at the general store
Were five baseball caps and not one more…
Also!
You can add in preschool concepts too, if your shapes or items not identical. You can buy the "blue umbrella" or the "skinny teddy" or the "slice with mushrooms."
Here's some nickels! Have fun!