I know I said I wasn't posting storytimes lately, but this is one I never wrote up from last year!
OPENING SONG: Hello Song*
OPENING FINGERPLAY: Open Them Shut Them*
BOOK: Baby Goes Beep! by O'CONNELL
Fuse #8 says this insanely awesome book for babies is coming back in print!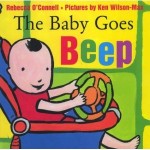 LITERACY TIP: Narrative Skills
Describing an object or an event helps us to understand it. Comprehension skills are critical when kids are trying to understand what they're reading. Don't forget to talk about noises when you are describing things!
BOUNCE: I'm a Little Cuckoo Clock!
Rock babies gently back and forth on your lap as you say the verse. Then lift them up in the air for each "Cuckoo!" Lots of our baby storytime providers at my library do this one every week. Here's my version.
Tick tock, tick tock
I'm a little cuckoo clock
Tick tock, tick tock
It's one o'clock!
CUCKOO!

Tick tock, tick tock
I'm a little cuckoo clock
Tick tock, tick tock
It's two o'clock!
CUCKOO! CUCKOO!
FLANNEL SONG: A Hunting We Will Go*
BOOK: Moo Baa La La La by BOYNTON
Perfect for babies!


ACTIVITY: Noisy and Quiet Animals
I just brought four puppets: a lion, an elephant, a butterfly, and a mouse. I pulled them out one by one and we talked about whether the animal could be LOUD or was it quiet.
FINGERPLAY: Quiet Mouse
Here's a quiet little mouse
Living in a quiet house
Hold thumb tucked inside fist
When all was quiet as could be
OUT! popped he!
Pop out thumb!
SONG WITH SHAKERS: We're Going to Kentucky
SONG WITH SHAKERS: Milkshake
Can't have a noisy storytime without egg shakers! These two songs are super for little ones.
ACTION RHYME: This is Big Big Big*
CLOSING SONG: Sneeze Game*
*Check out the My Baby Storytime page for the words and/or citations for these weekly activities!