A few years ago I decided I wanted to tell "Three Little Fishes and the Big Bad Shark" by Ken Geist for summer reading school visits. In this version of The Three Little Pigs, the fishies take refuge in a seaweed house, a sandcastle, and finally, a big scallop shell as they escape from the shark.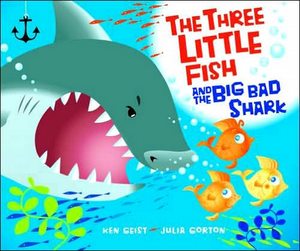 The before & after images of the seaweed and sandcastle houses gave me the idea to make front-and-back pictures to show as I told the story. Using clip art cartoons as my patterns, I put together several sets of pictures, using cut out construction paper pieces and cardstock bases.
We needed a shark, of course:
GRRR!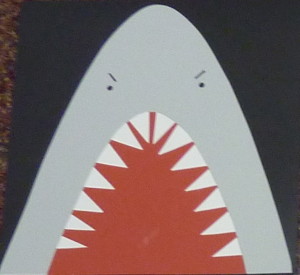 And three little fish:

Here's the seaweed house, before and after destruction: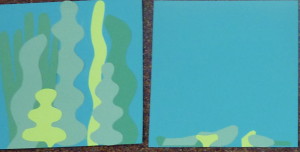 The sandcastle before and after utter collapse: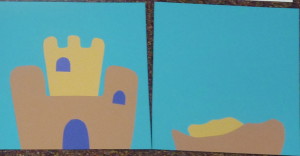 And the scallop shell, open and closed.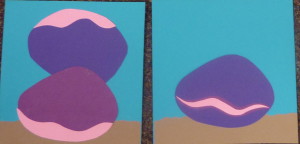 And at last, the shark, sans teeth, after trying to get at the fishies in the scallop shell: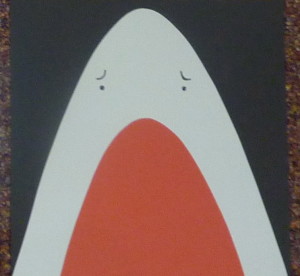 These are about 9×9 each. I glued them back to front (The three fish are the only ones that are one-sided) so the shark with teeth was on one side, without teeth on the other; seaweed tall on one side, short on the other, and so forth. I stuck a paint stirrer stick thingy from Ace in each one as a handle: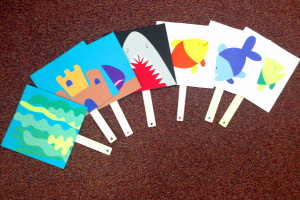 And I marked up the base of the handles, so I could tell which picture was which while I was in the middle of telling the story. Dots are the "front side," dashes are the "back side:"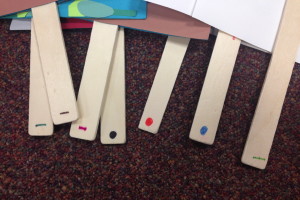 What I did was sit in front of the kids, and put the pictures handles-up in a box in front of me. Then I started the story, holding up the right picture at the right time. When the houses got destroyed, I just flipped the pictures from one side to another while I was holding them up. When the shark went after the scallop shell at the end, I showed the shell open and shut with one hand, then the shark before and after with the other.
It took a little practice to be able to manipulate the pictures while I was telling the story and interacting with the kids, but in the end it was worth it and it was a slightly different way to present.
Here's all the images together: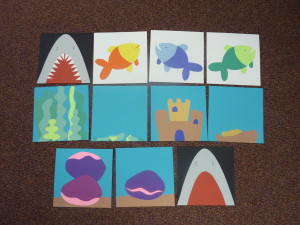 Happy Shark Week! The round up is at Sharon's place this week, head on over and see all the other sharky goodness!
You can always find everything Flannel Friday at our website.