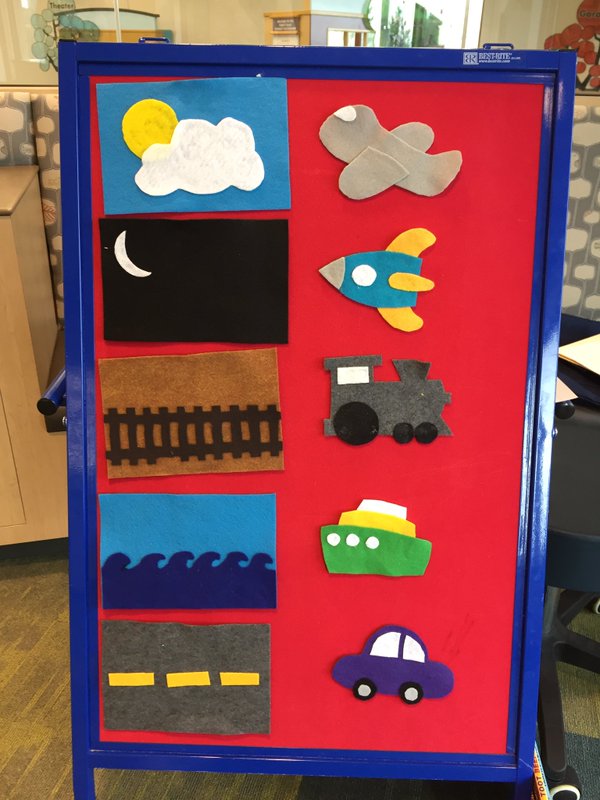 I didn't quite get this finished in time–either the set OR this post!
But this is what I have so far for a version of the Where Does This Go? matching game that Miss Mary Liberry posted FIVE YEARS AGO and I have been meaning to make ever since.
There's no rhyme for this, though you could make one up if you wanted to! I use it the way Mary does, as a conversation prompt, talking about all the forms of transportation, and where they belong. For the toddlers, I put up all the things-that-go first, then I put the places up, but next to the wrong vehicles, pretending I had it right: "So the plane goes on the train tracks and the car goes in the water…" They were VERY happy to help me get them straightened out. As we figured out the correct match, I moved the vehicle over onto the location piece. With preschoolers, you could ask them to think of the correct match without looking at the pieces. "What goes on the water? What goes in the sky?"
Andrea at Roving Fiddlehead and Mollie at What Happens in Storytime have their own versions, too!
The fun thing about making this was that I used the train from my Train set and the rocket from the Outer Space set!
I would like to add a tricycle on a bike path and a submarine under the ocean…oooh, and maybe a sled for the snow???
I had the round up this week! Find out more about Flannel Friday at our website, see all the past ideas at our Pinterest (including the Transportation board), and hang out with us on Facebook.