I am always looking for good big books to use in baby storytime. There aren't that many books that are short, have clear, simple images, and come in an oversize format. I tend to use certain titles over and over again. This year, as I was putting together my Fall Colors storytime, I thought I'd try making my own big counting book!
I used 12 x 18″ white construction paper and painted the images with acrylic paints. I am no Mary Cassatt! For some of the leaves I started with stencils I made from clip art images. I typed out the text in Century Gothic, which is a nice sans serif font with no unorthodox letter shapes. We have a 12″ Xyron laminator at work, so I glued the words to the back of each picture, and ran each page through. I punched holes along the left edges with a 3 hole punch, and fastened them with binder rings from an office supply store. The book held together very nicely and the pages turned easily.
Here are a few pages.
This is the first page of the story.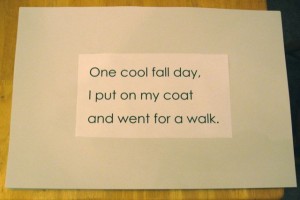 "I saw 2 green gingko leaves."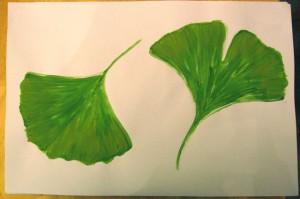 "I saw 3 brown oak leaves."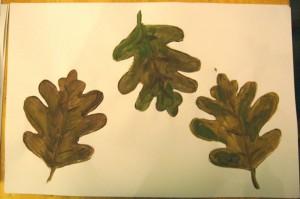 I had a blast making this and sharing it with my babies. I hope you are inspired to make your own big books!