I love doing guessing games with my babies in storytime! Here's my newest one, made for my Fall Colors storytime.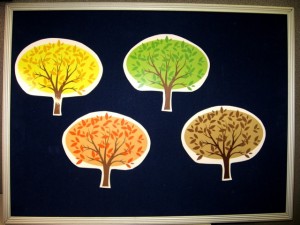 When I set the pieces on the board, I tuck the bird behind one of the trees.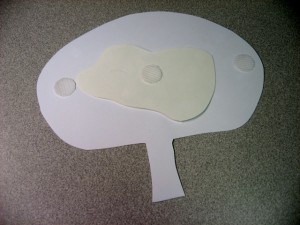 Then I say, "Look at all the trees with different color leaves! I wonder where Little Bird is. Little Bird, are you in the brown tree? Where's the brown tree?" Then I lift the brown tree. No Little Bird! We go one by one until we find her.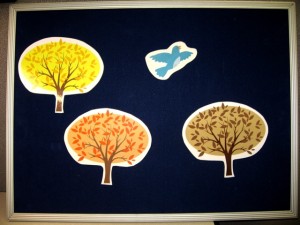 The bird and the tree I found in the Microsoft Word clip art files. I used Edit Picture to change the colors of the trees! I print the images on cardstock, laminate them, and put Velcro dots on the back.
(Ed. 11/11: I am no longer sharing my clip art files due to copyright concerns, so I've taken down the link to the scans. However, if you search in Microsoft Word clip art you may find the original files I started with.)