Whoop! Nominations are now open for the 2015 CLEL Bell Picture Book Awards for Early Literacy!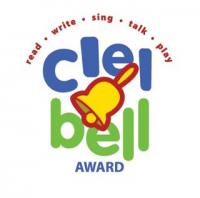 You remember me yammering on last year about the Bell Awards, I am sure. If not, the CLEL Bell Awards are a new way to recognize picture books that provide excellent support of early literacy development in young children. They are a project of Colorado Libraries for Early Literacy and intended as a tool for all sorts of early literacy advocacy efforts (from storytime to outreach to community partner education).
We are looking for high-quality picture books with a clear connection to reading, writing, singing, talking, or playing, published between November 16, 2013, and November 15, 2014.
Anyone (yes, you!) may nominate a title using this form.
Read more about the full selection criteria and check out last year's winners for some great examples.
To see what's been nominated already, read the 2015 nominations lists.
We will announce the 2015 Bell Awards on February 5, 2015, with one title in each of five categories, representing an early literacy practice: Read, Write, Sing, Talk, and Play.
We can't wait to see what books have caught your eye!
For more information, visit the Bell Awards pages or contact the Selection Committee at clelbellawards@gmail.com. Or ask me here on Mel's Desk! I'm chairing the Selection Committee again this year and SUPER excited to get going!