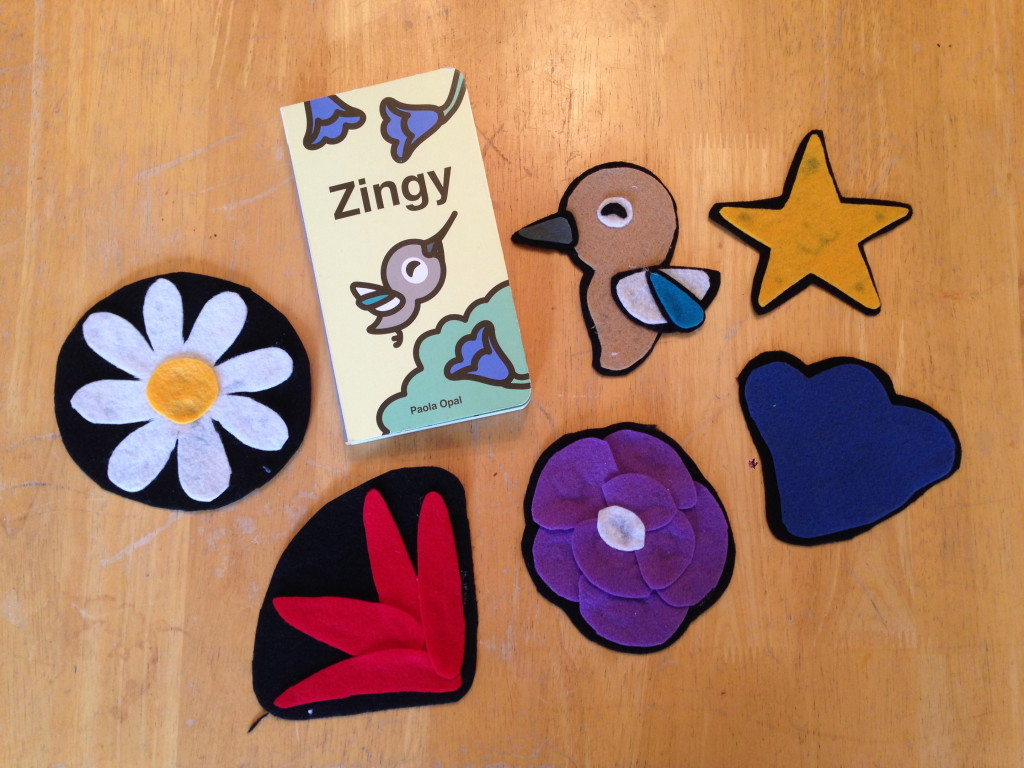 I have been in love with Paola Opal's books for a few years now. They are perfect first stories for very young toddlers: they are very short and they feature child protagonists, of course, but unlike many board books, they are also true narratives, with a real story arc and a problem that must be solved. AND the problem is solved BY the child character. How awesome is that?
ANYWAY. I used Zingy in a Bird storytime and made this flannel to go along with. After we read the book, I put the flowers on the board one by one, chatting a little: "Oh, here's a daisy, and this one looks like a star, and this one has four red petals." I stacked one flower so Zingy was peeking out behind it and put them both on the board at the same time…you could see a wing, or a beak sticking out past the flower. Then when all the flowers were up, I said, "Where's Zingy?"
The older toddlers in my birth-24 months baby storytime can usually see where Zingy is, or if not, I often have a big brother or sister who is THRILLED to be able to spot Zingy for the group.
We do this a few times, talking all the while. "The red flower is next to the blue one, and the blue one is next to the yellow one…" And "I can tell Zingy is behind the purple flower because his wing is showing, look!"
The idea with the babies is not so much to have them "get the right answer" as it is to play "peekaboo" and model a lot of ongoing chatter for the adults. But with older kids, you could size the pieces so that Zingy could be completely hidden behind a flower, and then give clues: "Zingy is hiding behind a flower that's the same color as a stop sign."
I'm not including a pattern because the pictures are so bold and simple that I just used the illustrations as my pattern book. I started with a black shape for the background and built the images on top of it.
I'm looking forward to doing more sets for more of Opal's books!
Happy Flannel Friday! The Roundup is at Mollie's place this week. For more about Flannel Friday, you can always check out the website or our Pinterest.