Over on Pinterest, there are 9 bazillion clothespin activities for preschoolers, which usually involve having kids clip marked clothespins onto matching buckets, cups, or pieces of cardboard…the blue clothespin to the blue cup, for example, or the clothespin with a capital A on it to the lower case A written on the cardboard strip.
This type of thing is a lot of fun because it's a kinesthetic, play-based way for kids to explore different concepts, and boost fine motor skills besides. I liked the idea so much I wanted to offer a clothespin activity to our storytime providers. And I wanted every child to be able to manipulate the clothespins, not just watch the leader do it. Which meant I needed 25 pieces of sturdy cardboard times 8 library branches…so, yes, it's true, I ordered 500 six-inch cardboard cake circles from a bakers' supply company. How fun is my job?
For my first set I chose farm animals, because I knew "animals" would be a more accessible idea to a broader age range than letters, shapes, colors, or numbers. It also fits in a number of different storytime themes: Farm, of course, but also Noisy & Quiet, or Big & Small, or just tucked into storytime after a book featuring one of those animals. In Word, I created a 6″ circle shape. I found some darling clip art animals in Microsoft Word, and placed them around the edge of the circle, and printed them out in color.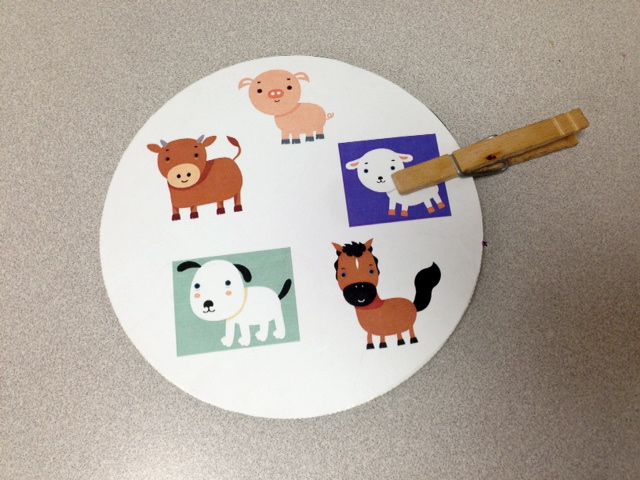 Then it was a matter of cutting out the paper circles and gluing them to the cardboard…a great job for a volunteer, if you have one. (Or you could bring them home and make your girls help you with assembly while you all watch Dr. Who.)
If you don't want to or can't purchase the cake circles, you can certainly use chipboard cereal or soda boxes from your recycle bin, and make strips instead: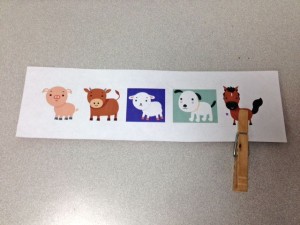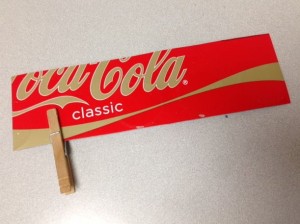 Now, what do you do with these guys? Give every child a board and a clothespin. Tell the grownups that the children should try to move the clothespins themselves, using the pads of their first finger and thumb. If the kids can't squeeze hard enough with their fingertips, the parents should help them out. Then try one of these activities:
Sing Old MacDonald or Fiddle-I-Fee. Tell your group that they need to listen carefully, and when they hear you sing an animal, to move their clothespin to the matching picture.
Play a Guessing Game. Give the children clues for each animal ("I'm thinking of an animal that is white, and says 'baaa,' and gives us wool for clothes.") and when they guess, move the clothespin. Encourage them to talk it over with their grown-up!
Read a Book. On the Farm by David Elliot has great pictures, and a very short poem for each of a number of farm animals. You could just read the poems that match the pictures on your boards. Or you could read a book like Spot Goes to the Farm by Eric Hill, and have the children listen and move their clothespins if they see a picture of a matching animal.
What else could you do?

I still have 300 cake circles left, so I'm planning my next sets already. Maybe things that go, or good things to eat…can't wait to figure it out!
The round-up is at Loons and Quines this week, all the way over in Scotland! *waves at LQ*
You can find all things Flannel Friday over here.