OK, it's been MONTHS since I had a Flannel Friday post and now that I do it isn't even a flannelboard. And it's something that I've been working on for a looooong time (like, years) because, busy.
But here you go!
I was trying to think of different activities that could go along with a Valentines storytime that wouldn't be all kissy-kissy. Mailing valentines came to mind and though there are adorable felt envelopes out there, I knew that would be beyond my reach in terms of time and effort.
But since kids are seeing fewer letters than they used to, and using the mail less often in general, a real envelope struck me as a valuable object to share and talk about. And if you're using a real envelope…why not a real stamp too? Face it: 1-cent stamps are as cheap as any sticker you are going to find!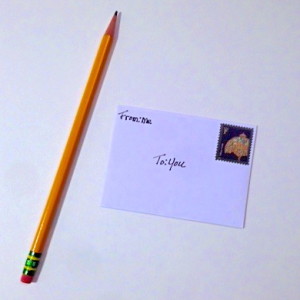 I bought teeny-tiny gift envelopes and asked a volunteer to put a small blank piece of cardstock inside (to make them sturdier), seal them, put the stamps on and "address" each one. We made them in sets large enough for every child to have one. The idea is not for the child to open the envelope (though that will inevitably happen with some) but to be able to look at it and talk about it (there's a front, and a flap, and a stamp, and an address, and a return address…).
Then I took gift boxes,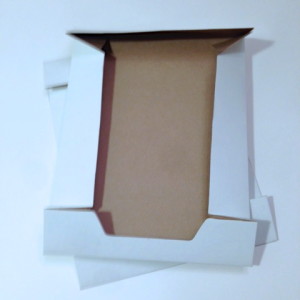 and turned them into mailboxes: cut a slot in one side, covered the front in colored paper, and fit them together.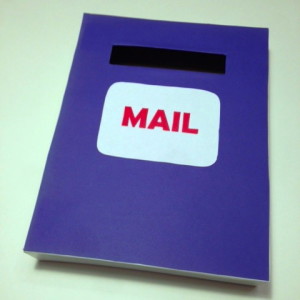 I didn't want to seal them so I could open them up and get the letters out! Because that's what you do with these, let the kids mail their own letters. Hand one out to each child and let them look at them and talk about them with their adult. Then you can call them up one by one to drop their letter in the mailbox, or you can walk around with the mailbox to each child and let them mail it from their seat. I don't have a cute rhyme to say or sing–so if you think of one let us know!
You can use these for Valentines, of course, but also any time you are talking about friends or friendship, gifts, faraway places, community workers, or nursery rhymes (A Tisket A Tasket).
Happy Flannel Friday!
Here's some other great letters/envelopes/mailbox activities (thanks to @Rachel_nk @lmkrabbenhoft @choosejoytoday @klmpeace who found many of them!)
Busy Crafting Mommy: Flannel Friday: Another Valentines Day Set
Storytime Katie: Flannel Friday: Six Little Valentines
Read It Again! Flannel Friday: Mailing Letters
Storytime Secrets: Flannel Friday: Letters From Favorite Characters
Future Librarian Superhero: Letter of the Day Without Puppets
Libraryland: Don't Let the Pigeon Writing Center
The Wielded Pen: You've Got Mail Storytime
Today's round up is going to be right here at Mel's Desk! If you have a blog and you're new to Flannel Friday, check out the basics and ask for help if you need it; I'll be checking comments frequently tonight and tomorrow. If you'd like to contribute to Flannel Friday but don't have a blog, let me know and I can host you here or find another FF member to help out.
_________
Unrelated PS: I'm running a Reader Survey for Mel's Desk–read about why and take the survey! Thank you!