How about a little serendipity, right here?

When I volunteered for a winter round up spot I did not know the date I'd get would be almost 3 years to the day from my original Flannel Friday post (Friday, January 21, 2011!). It totally gives me chills to know we are part of an amazing collaboration that is still going strong. You all get super bonus universe points for everything you do to share with and support each other.
Here is the first round of the round up! I have a couple more waiting for me to add them after dinner, and there is still time to get me a link if you haven't yet.
Love & Valentine Ideas!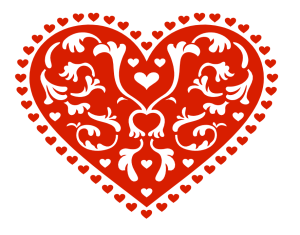 Bridget shows a little love for Monkeyface by Frank Asch!
Christine at Feltboard Ideas shares some hearts and gathered together a few rhymes to go with.
Kathryn at Fun with Friends at Storytime has an inspired-by-Flannel-Friday set of envelopes plus two more ideas for the flannelboard, plus book suggestions!
Miss Kristie and Miss Sue each have a Valentine idea over at Library Village! You must see their adorable felt envelopes and a story with a frog and a kiss.
Linda wrote and designed a new draw-and-tell for Valentines Day at Notes from the Story Room! If you've never tried a draw-and-tell, check out her step by step instructions and photos for her story "Something Special" … you'll be adding this technique to your storytimes in no time!
Lindsay at with kiddos @ the library made a felt set to go with the book On Mother's Lap–a story about finding enough room and love for everything, even the new baby.
Lisa at Thrive after Three was looking to add to her flannelboards for toddlers and adapted the Jane Cabrera book Mommy, Please Carry Me (read her paired scarf activity too!)
And I have a Letters & Mailbox prop idea today!
Extra Bonus Anytime Ideas!
Woot! Welcome Becky to her very first Flannel Friday post ever! She's sharing a couple of Flannel-Friday inspirations in her bugs storytime at A Librarian Less Ordinary. (Etsy clip-art vendor alert!) She is at Hebrew-immersion school, how cool, so also check out how she is starting to include Hebrew words into her storytimes.
Andrea at Roving Fiddlehead Kidlit found a genius idea for how to take a flannelboard on the go. Or you could make a whole set for storytime–or put them in storytime-to-go kits–how else could you use these?
Cate is working on a new infographic at Storytiming, but the link isn't live quite yet. Check out her one from last week for Little Miss Muffet while you wait!
K is bringing home a baby penguin instead of a bumblebee at Storytime ABC's!
UPDATED 1/24: Lisa at Story Time with the Library Lady had a link late Friday, but I was a terrible host and did not do a final check after she posted! Here's a great round up of soup books with two great crafts, both easily adaptable to other themes.
Mollie has not one, not two, but 10 Little Babies over at What Happens in Storytime!