I haven't posted as much about the CLEL Bell Awards this year but they are still going strong! In fact you still have one more month to suggest a title for the 2016 awards!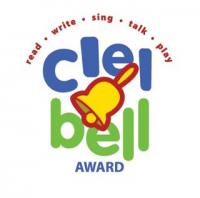 Here's what I had to say at this time last year:
The Bell Picture Book Awards are a project of Colorado Libraries for Early Literacy and are an annual, national recognition of five high-quality picture books that provide excellent support of early literacy development in young children. In particular, we're looking for those picture books that support and/or model the early literacy practices of read, write, sing, talk, and play.

What does that mean?

Well, think about a couple of our Silver Bell honor books: Press Here, by Herve Tullet, is pretty impossible to read without actually engaging in play–families find themselves playfully pushing the buttons and making discoveries almost whether they mean to or not. That's great support for play: the book itself helps make playing happen. Another Play Silver Bell title, Pete's a Pizza, by William Steig, is a great example of a book that models play. While reading the story together, families get a sneak peek at another family in the middle of an imaginative, open-ended play time.

Two more examples, from the 2014 Talk Shortlist: The book Which Is Round? Which Is Bigger? by Mineko Mamada, supports caregiver-child conversations by incorporating dialogic reading questions (with intriguing answers!) right into the text. The 2014 Bell Award title for Talk, Moo! by David LaRochelle, illustrated by Mike Wohnoutka, models all sorts of reasons for talking, (with just one word!) including asking questions, expressing emotions, and making arguments.
Suggested titles will first be reviewed by the Selection Committee, and if they are determined to meet the selection criteria, they will be added to this year's nominated title lists.
Shortlists for each category will be selected in December, then the final winners announced on February 5, 2016.
So what books have you seen this year that help families and caregivers engage with their children around early literacy practices? What titles have reading, writing, singing, talking, or playing as part of the story?
Share your suggestions using the Bell Awards Suggestion Form! The last day is November 15, 2015!