My library is just completing phase one of our own picture book reorganization! Piloted by the Darien Library, a picture book reorganization project sorts your picture book collection into broad subject categories instead of alphabetizing by the author's last name. It is intended to help families browse more easily to find topics of interest to their children–and help children be more independent in finding books as well.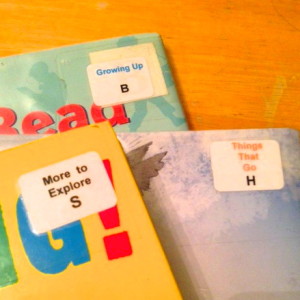 I was not the architect of our initiative, so rather than outline all the logistics, I will point you to others who have written about their projects: Katie and Amy and the ALSC Blog or the Darien Library slideshow.
The Thomas Memorial Library in Maine even ran a little survey to help decide what to call each section! Or check out the Picture Book Project pages from the Marin County Free Library.
I will say that we managed to do our reorg across multiple branches with a floating collection and with no library closures, so while it seems like a huge undertaking, it is totally doable.
I read this post recently: From the Short Stacks, which provides an update on their reorg project and a reporting on a few tweaks they made to the categories, and it inspired me to at least share our categories, in case you're about to sort all YOUR books, and one more perspective helps you clarify your thinking!
Every library does this a little differently! Here's the 10 categories we ended up with, and the little blurbs I wrote to describe each one.
Activities
There's so many things for children to do and try! In this section you'll find stories about play, sports, arts and crafts, reading and the library, music, and dance. And more!
Animals
Young children are fascinated by the creatures that share their world. This section includes stories about animals at the zoo, in the wild, under the ocean, and on the farm–as well as pets, insects, and dinosaurs.
Celebrations
Some special days are different than others! Find out why with the books in this section about holidays, religious observances, and events such as birthdays and weddings.
Concepts
Children begin learning and thinking about the world by putting objects and ideas into categories. Look in this section for books about colors, shapes, letters, and numbers, but also other ideas such as time, opposites, sizes, and patterns.
Growing Up
Babies, toddlers, and preschoolers experience one major "first" after another! Books in this section will help them explore important milestones, rituals, and relationships. Topics include potty training, welcoming new siblings, making friends, starting school, establishing bedtime routines, learning about their bodies, as well as books about family members.
More to Explore
The best thing about books is making new discoveries! There's something for everyone in this section, such as books about real people, and books set in other times and places. You'll also find longer stories, including Dr Seuss books, and fun surprises such as monsters, ninjas, and pirates.
Nature and Science
As children grow older, they become more and more interested in the world around them. Encourage their wonder with the books in this section about the weather, seasons, mechanics, outer space, geography, and ecosystems.
Popular Characters
It's so much fun to find a familiar face in a book! Look in this section for characters from movies, TV shows, toys, and new and classic picture book series.
Rhymes, Songs, and Tales
Children's picture books draw on a rich history of traditional literature. Explore that heritage with books in this section that showcase classic folklore and fairy tales, as well as new twists on old tales. You'll also find familiar children's songs, Mother Goose rhymes, and poetry.
Things That Go
How do we get from here to there? Books in this section are full of cars, trucks, trains, planes, construction vehicles, bikes, boats, and even balloons.
A Few Notes:
Animals is intended to be, broadly, animals-acting-like-animals (as much as possible) otherwise half the picture books in the world would end up here.
More to Explore is our "Misc" section. We put monsters over here in the hopes of helping families who wanted to avoid them. We tried really hard to put authors in a subject category, to save our Popular Characters section just for favorite characters, and not favorite authors too. So Richard Scarry is in Concepts and Eric Carle is in Animals. Dr. Seuss is our exception, and is our only author collected in More to Explore.
Growing Up turned out to be way huger than we anticipated. The way we described it, EVERYTHING is about "growing up." O.o I think my advice here would be to consider separating out the books about families, or maybe friends and families, which would leave the "milestones" topics by themselves.
No, we don't have a Princesses category! We have Disney princesses in Popular Characters, and all other princessy books go in Rhymes, Songs, and Tales.
We're still getting used to it, patrons and staff alike, but I love that we did this! How about you? Are you planning a reorg project?