This is the companion post to One Theme, Three Storytimes: Outer Space in which I list three (OK five) related plans using various books and activities for different ages and sizes of storytimes. In this post I'm sharing the words and descriptions for the songs & activities.
First, for my Baby Storytime, I do these four elements every week, and the words and citations are at this page.
Open Shut Them
A-Hunting We Will Go
This is Big Big Big
The Sneeze Game
Next, my current Good Morning song is adapted from the Greg and Steve "Good Morning" song, on We All Live Together vol 2. I learned this when my kids were in preschool from their classroom teachers and it still makes me smile. My adaptation:
Good morning, good morning, good morning to you
Good morning, good morning, good morning to you
It's time for our stories, there's so much to do
Good morning, good morning, good morning to you
Now the booklist:
Higher, Higher, by Leslie Patricelli
Twinkle Twinkle Little Star (my own big book)
Astronaut Piggy-Wiggy, by Diane Fox & Christyan Fox
Light Up the Night, by Jean Reidy
Moon Rope, by Lois Ehlert
Mooncake, by Frank Asch
How to Catch a Star, by Oliver Jeffers
What did we do? Lots of things!
One Little Rocket Went Out to Play
One Alien Went Out to Play
Sing to: Five Little Ducks Went Out to Play
One little rocket (or alien) went out to play
In the Milky Way one day
She had such enormous fun
That she called for another little rocket (alien) to come!

Two little rockets…
I did rockets for the younger kids and aliens for the older kids. When I introduced the song, I would ask, "What noise does a rocket make?" or "What does an alien say?" And then I would work the answers into the song. When you get to the last line, "…called for another little rocket to come," then cup your hands around your mouth and say, "Meep meep!" or "Bababababa" or "Vroooom!" or whatever you've decided is the correct noise, to "call" for the others to come play. Alternately, you can just call out in a very sing song voice, "Oh, AAAAAALIENNNN!" before you start the next verse. This is a song I adapt a lot (see my recent Shark Flannel Friday!) so it may be that someone else has also adapted it this way, but I don't think I came across it while I was surfing and planning.
My rocket set is clipart edited to be 5 different colors, and my alien set I just made: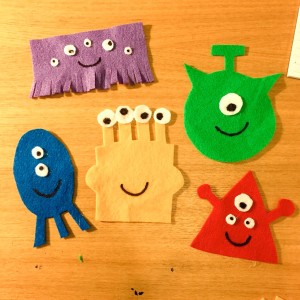 I'll take a better pic when I write a Flannel Friday post for these guys. In the meantime, my inspiration came from Library Quine's Five Little Men in a Flying Saucer post, and Miss Mary Liberry's easy-peasy monster tutorial.
If You're Going to the Moon
Sing to: If You're Happy and You Know It
If you're going to the moon, wear your boots (stomp stomp)
If you're going to the moon, wear your boots
If you're going to the moon, this is what you have to do
If you're going to the moon, wear your boots

…wear your suit (ziiiip!)
…wear your gloves (clap clap)
…wear your helmet (pat your head)
This I adapted a long time ago for my Moon and Rockets Baby Storytime, but I've seen that others have independently adapted it too. I borrowed the suit verse and zip action from SLC Book Boy's Outer Space Storytime. For the babies I do three verses, boots, gloves, helmet; for the older kids I add the suit.
Johnny Looked at the Moon
Johnny looked at the moon
Johnny looked at the stars
Johnny jumped in a rocket ship
And blasted off to Mars!
I learned this from the old paper files at my library, but I've seen it out on the web too. I don't know the original source for it. I just do it as a bounce with the babies, chanting and bouncing for the first three lines, then lifting the babies into the air for blast off.
Zoom Zoom Zoom
Zoom zoom zoom, we're going to the moon
Zoom zoom zoom, we're going to the moon
If you'd like to take a trip, climb aboard my rocket ship
Zoom zoom zoom, we're going to the moon

5…4…3…2…1…BLAST OFF!
I learned this from Jbrary! They learned it from Kathy Reid-Naiman's music CD Zoom Zoom Cuddle and Croon. This was a big hit with all ages, all sizes of storytimes. It worked really well paired after If You're Going to the Moon. "Now that we're all suited up, let's take a trip!"
I'm a Little Rocket
Sing to: I'm a Little Teapot
I'm a little rocket, tall and thin
Here is my nose cone
Here are my fins
When I get all fired up, launch begins
Watch me rise and see me spin
This I borrowed from Kelly's Five Little Rockets Flannel Friday post–she learned it from NASA! Normally I don't sing piggyback songs to I'm a Little Teapot because the tune gives me fits and I can't sing it well, but I made an exception because I loved the "nose cone" and "fins" vocabulary…in fact I made it the basis for several of my literacy messages, about songs helping kids build vocabulary by using words in context.
Build a Sky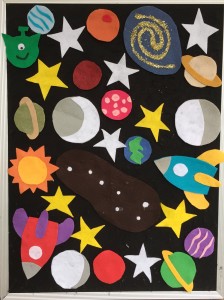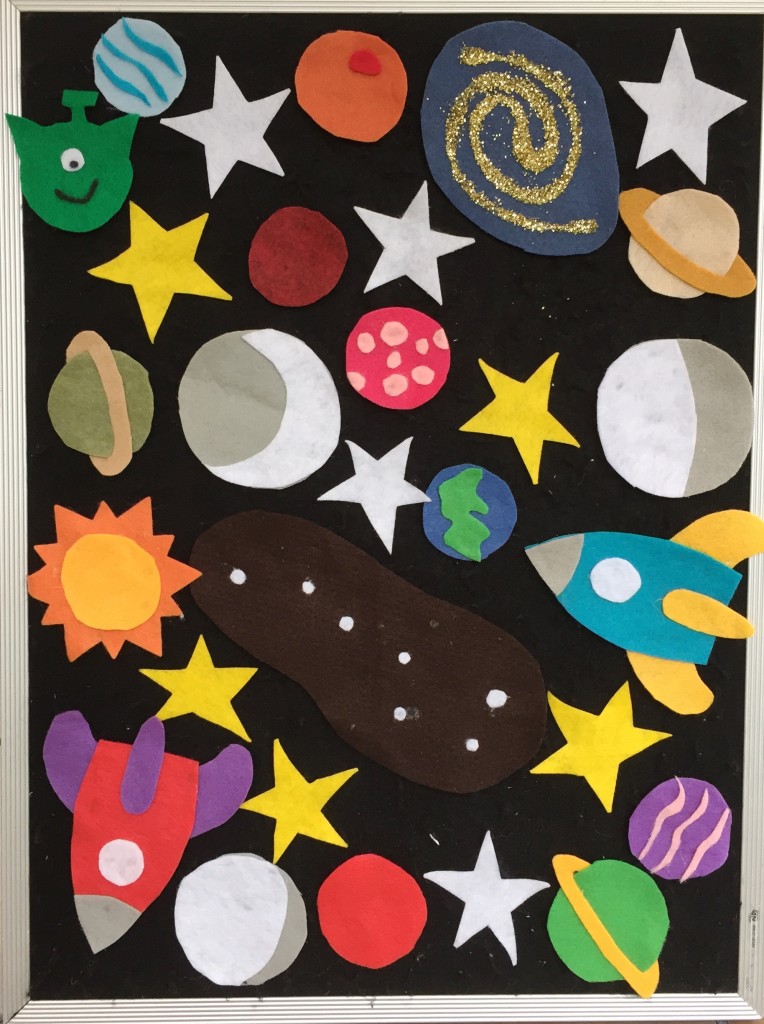 For this I used my new flannelboard Outer Space Set. I handed out one of the white and yellow stars, the moons, and the planets to each of the toddlers, and asked them to come up one by one and put them anywhere they wanted. I had them come up piece by piece, first the yellow stars, then the white stars, etc. It wasn't perfect but most of the grownups were able to help their children wait for the appropriate time. Waiting is good executive skills practice! When all the pieces were on the board we admired our handiwork, then sang Twinkle Twinkle Little Star together. From Jbrary's Guest Poster Julie I took the idea to make my moons be in different phases.
I'm Going Out in Space
Sing to: Farmer in the Dell
I'm going out in space
I'm going out in space
I think I'll see a planet there
I'm going out in space
When my groups were too big to hand out pieces, I chose a few pieces from the outer space set and sang this song. I do this a lot with my babies with different themes: going to the beach, the park, or "It's wintertime you know," all sorts of ways. After each verse, we'd look at what I put on the board and talk about it a little bit. "What color is this star?" "I see blue stripes on this planet."
What's Missing?
I mentioned this game in my Outer Space Set post and Miss Mary Liberry plays it too. Put up a mix of shapes on the board, then either turn the board towards you while you take one piece away, or hold up a piece of cardboard or a plastic bin lid to hide your actions from your group. See if the kids can guess which is missing! Once they got the hang of it, I would take away 2 or 3 pieces at a time.
Galaxy Stretch and Catch a Star!
Bend and stretch, reach for the stars
There goes Jupiter, here comes Mars
Bend and stretch, reach for the sky
Stand on tippytoe, oh so high!
I learned this from Annie, who shared it in the comments of my Moon and Rockets post. I've since seen it lots of places but haven't been able to track down the original citation–does anyone know? From Tara's blog I borrowed the idea to pair a "star-catching" activity with Oliver Jeffers' book How to Catch a Star. I read it to a smaller Family storytime group, and we did the Galaxy Stretch, and while they were all still on tiptoe I walked around as Miss Tara did and gave every child one of the flannel star pieces from the Outer Space Set. They really had to stretch to grab them, it was very fun! When everyone had their star, I invited them to come up to the flannelboard and make a constellation, then we sang Twinkle Twinkle.
Last but not least, the closing song I used sometimes is the Milkshake Song, which is on Songs For Wiggleworms. It is a big, big hit with lots of our kids so when I sub I have to close with it or there is trouble in River City! <3
OK, *whew* that's the end!