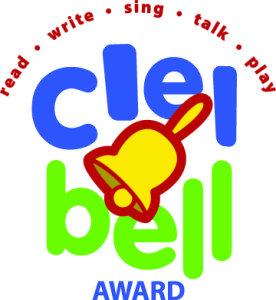 Ta-dah! Over a year of reading and discussing culminates today in the announcement of the first CLEL Bell Awards! Can't wait to see which titles won?

Head over to the CLEL website to find out!
This new picture book award was created to celebrate and promote picture books that provide excellent support of early literacy development in young children. It's been a privilege to dream, plan, and work with the incredible members of the selection committee, and I can't thank them enough for their passion and commitment.
I also want to thank YOU for reading all my posts about the Bells this year and for following the news, spreading the word, getting to know these books, sharing them out, or for any other kind of support, big or little, you've engaged in this year with us. If you use the 2014 Bell books in trainings, displays, blog posts, storytimes, or in any other way, please take a minute to let me know. I'd be thrilled to hear from you!