Do you love picture books?
Are you hooked on early literacy?
Do you love learning from other readers?
Come join us at the brand-new Goodreads Discussion Group for the 2015 CLEL Bell Awards!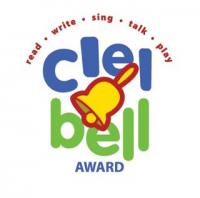 If you've been reading Mel's Desk for awhile, you know that some friends and I from Colorado Libraries for Early Literacy launched a new picture book award last year, to celebrate books that supported the development of early literacy skills in children. One of our goals for the awards is to be able to use picture books as a way to create some space for professional conversation around early literacy skills and practices.
So we're meeting over on Goodreads! Twice a month, we'll post five titles from our list of currently-nominated books for open discussion.
Have you used these books in storytime? Read them to your nieces? Where do you see early literacy skills and practices reflected in the content? Do you have a good idea for an extension idea?
Head on over! We'd love to hear from you!