My contribution today is cribbed straight from Leo Lionni! These four adorable board books were re-released this year and I snapped them up for baby storytime. They are very simple, just one or two images on the page, lots of white space, and of course, the charming mice.
I made a few versions of the mice, because they are based on such simple shapes they are super easy, and once one of them appears on your work table it is hard to stop.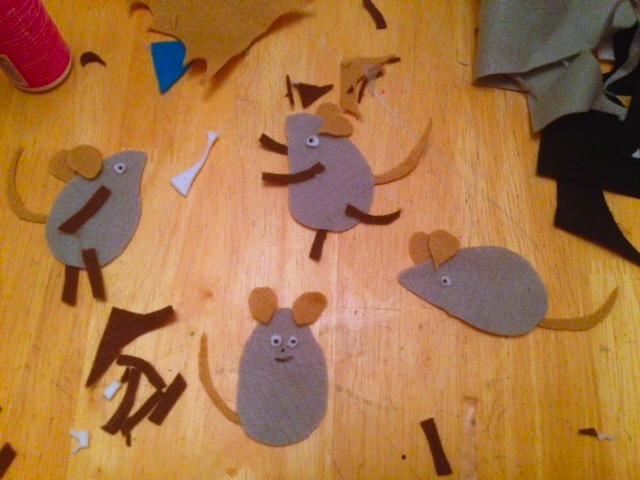 I just cut shapes freehand based on the pictures, but while I was searching for images, I found an activity sheet on the Random House pages that is pretty much all the pattern you need.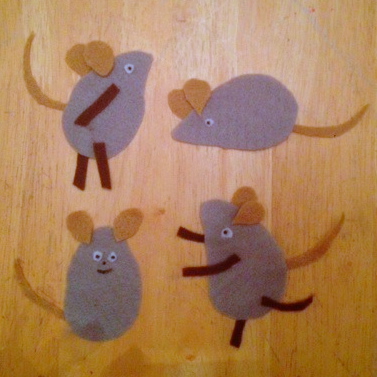 You could do a couple of things with these guys! You could reproduce all of one of the board book's images in felt, and then use the flannelboard to "tell" the story (instead of reading the small book in storytime). Or you could use some of the pieces to play Little Mouse, Little Mouse, either before or after you read one of these books, or any other of Lionni's mouse books–again, you could use images from the books to play. You could even use a flannel to tie one of these books more tightly into a theme, if you like themes, by playing hide and seek with some images from the book, but also adding in images that match your theme. You could make some for a free-play flannelboard to set out in your children's room–the mice are quick to put together so they wouldn't be a huge investment of time lost when they disappear or get worn out.
You don't need to worry too much about face details or making each body shape unique–the arms and legs tell you everything you need to know. Here's the sitting-up mouse from the group picture above, now a waving mouse! Have fun!