Good morning! Friday is here again! Where did the week go?
Here's a flannel I made a long time ago for The Mouse and the Apple by Stephen Butler. This is a simple reiterative story that is actually great for storytime as is: the story isn't too long and the illustrations are bright and clear. However, I made it into a flannel to take to my daughter's preschool class so they could play with the pieces and retell the story.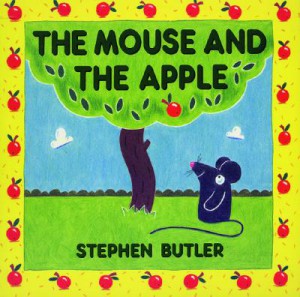 The story is there's a sweet, sweet apple high up on the tree and Mouse is waiting patiently for it to fall. Other animals come along and are NOT so patient. The goose flaps its wings at the tree, the goat butts the trunk, etc. No one gets the apple to drop and they all decide it must be bitter and they take off. Mouse keeps waiting patiently and sure enough, the apple falls and Mouse has a fabulous snack.
To make the flannel pieces, I just photocopied the illustrations from the book. The tree has one green leaf missing because that's where the apple goes!
I think for this winter I will make a pine tree with snow on it, and Mouse can be waiting for an icicle to fall!
Flannel Friday round up at Mary's place today! Find it at Miss Mary Liberry. Hosting schedule and past round ups are at Anne's So Tomorrow. Get a visual overview of all the Flannel Friday posts plus lots more inspiration at our Pinterest account!