Here are some pine trees straight from the Colorado mountains!
A winter version with pine cones: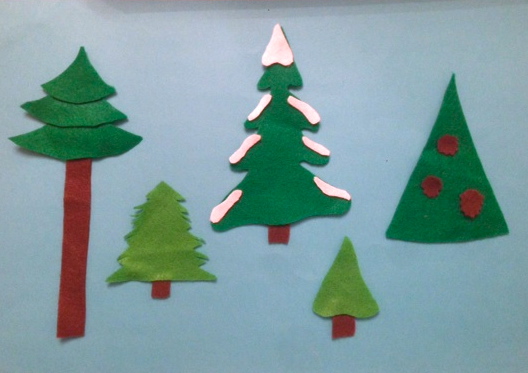 And a Christmas version with a star and lights: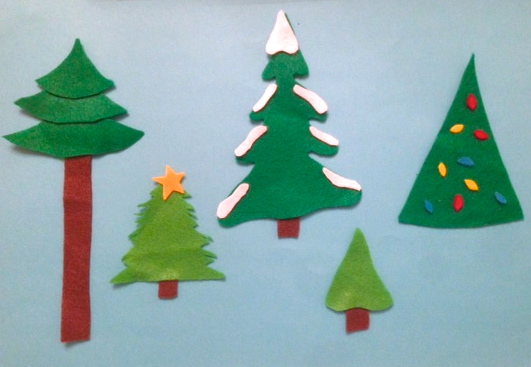 What can you do with these trees?
Well, when I started brainstorming for this post I remembered my strawberries. What I like about that set is all the talking I can do about different shapes and sizes (and colors!). That's why I gave every tree its own look for this set, too, to help prompt conversations.
So one easy peasy thing you could do is put the five trees on the board and just ask the children what tree like best…do they like the very tall tree? Do they like the tree with prickly branches? How about the one with pine cones? If you are working with a specific Christmas theme, your question could be, "Which one would you like to cut down for your Christmas tree?" You can work in some open-ended questions such as, "What would you use to cut down the tree?" "How would you carry it home?" "Who lives in a tree in the forest?"
You could also do the "What's Missing?" game (like I describe here) using Miss Mary Liberry's "No Peeking" song, put five trees on the board, take one away, and see if the kids can tell you which one is not there.
If you are feeling ambitious, you could make several copies of each type of tree, and hand one out to each child in storytime. You could say, "Let's plant a forest! If you have a very tall tree, come up and put it on the board! Great! If you have a tree with snow on the branches, come up and find a place for it." …and so forth. I bet the resulting forest would look fabulous!
If you like counting rhymes instead, I found this one and this one.
No patterns today–I just free cut different shapes as I went along. If you'd like a pattern, let me know and I will scan the shapes separately & share that.
I am hosting the Holiday Extravaganza Round Up today! Find out about all things Flannel Friday at our website.
Thanks everyone!