Today the round up is hosted by the fabulous Tracey at 1234 More Storytimes, so check there later for all the links. The more, the merrier, so if you've been thinking you want to participate, jump right in. Post to your blog with your Flannel Friday, then tweet it with the #flannelfriday hashtag. If you're not on Twitter and you'd like to share, just leave a link to your Flannel Friday post in the comments of Tracey's round up post, and she will add you. If you don't have a blog but would still like to share your idea, contact me in the comments here and we'll get your idea up on Tracey's blog!
So anyway…I have been working on a post of Fourth of July storytime ideas, in which I started to describe this activity, but then just decided it would be much easier to show, so it became this week's Flannel Friday! (The Fourth post will go up early next week.)
This is a super simple idea I found in my library's storytime files, so I don't know who to credit. It was originally for St Patrick's Day, but I adapted it for the Fourth of July.
Make a selection of shapes in red, white, and blue, using felt or construction paper. Try to use shapes or objects that are pretty strongly associated with each color (apple = red, cloud = white). I made four red, four white, and four blue shapes, but then I didn't use them all for this demonstration because they didn't all fit on the board.
All you do is slowly put all the red things up on the board, naming each one as you go.
"This apple is red…this fire engine is red…this ladybug is red…"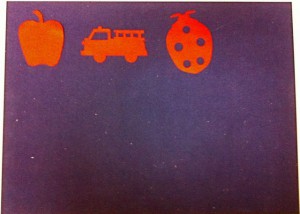 Then put a white thing up in the same row, but say, "This bone is red…."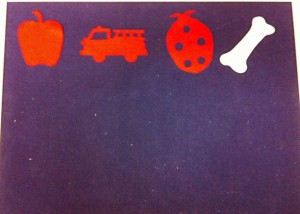 Oh, silly! That bone is white! Your preschoolers will certainly correct you. Your toddlers might need a little prompting! You can say, "Wait a minute! That bone isn't red! What color is it? It's white!"
Then put it down on the next row and say, "So this bone is white…" and continue, once again ending with the wrong color, this time one of the blue things.
Go through the routine again, and last but not least, you put up the flag and say, "This flag is blue…" Oh no it's not! It's red, white, AND blue!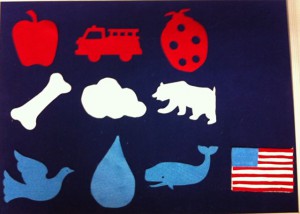 Another way to end is to get all your pieces on the board and look at them and say, "Wow, look at these cool colors. What are they? Red, white, and blue. I know something that has ALL of those colors…do you? We wave it around at parades and we see it on the flagpole. It's our flag!"
Easy peasy activity, but those kids do like to catch us making mistakes! As I said, the version in our files is for St Patrick's Day, and it had a lot of green objects, plus a yellow sun, black bat, etc. You'd put up two or three green things, then put up the yellow sun and say, "This sun is green…" Instead of moving the yellow sun to the next row, just leave it there and start a second row of green things. At the end of each row you'll have an object of a different color. The last thing you put on the board is a shamrock shape!
No patterns for you today, since I used Ellison dies for everything except the cloud and the raindrop, which I free cut. You can use whatever dies you have at hand, or find some coloring pages online to use as templates.
You could do this for any of the holidays that have colors associated with them…like Valentine's Day or Halloween, or even Thanksgiving. You could do a red-yellow-blue version for a Color theme, or do any colors at all for a Silly theme.
Have fun!