When I posted a clip art set for "There's a Parade in the Middle of the Street," we talked in the comments about how hard it is to find good storytime material for the Fourth of July. I have gathered and created a few things over the years and am sharing them with you now, on Flag Day! This is just a list, rather than an agenda, since I am gathering from several different storytime plans. [PS: If you tried to download the pdf for the parade clip art and couldn't get it, I have now fixed the link!]
Books
Fiesta Babies, by Tafolla. My new favorite book for celebrations. These babies do it all: sing, dance, eat, enjoy their families, and nap!

Yankee Doodle, by Owen. I have used this simple version of the folktale in storytime before, but I have to tell you, I am past the point where I can be enthusiastic about singing "and with the girls be handy." Seriously, I can't do it anymore!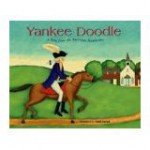 Yankee Doodle, by Hoberman. If you're in the same boat, check out this version of the song. You can skip the first two traditional verses and just jump right in to Mary Ann Hoberman's own silly continuation of the song.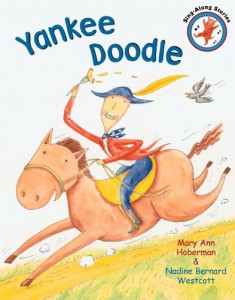 The Flag Book, by the Smithsonian. This is a board book for babies, and is written in a question-and-answer format: "What are the colors in the flag? Red, white, and blue." You could ditch the words entirely and just talk about the pictures.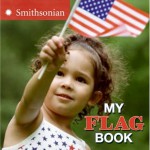 Apple Pie Fourth of July, by Wong. This is a longer story, great for preschool or family storytimes, about a girl who hates having to hang out in her family's Chinese restaurant all day on the 4th when she'd rather be doing "real" Fourth of July activities.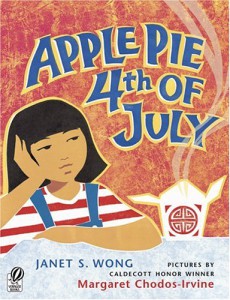 Word Bird's Summer Words, by Moncure. I have used this with the babies, because it is just one word and one illustration on the page. There's a sequence in the middle with the words ice cream/Fourth of July/parade/flags/fireworks and I just show those pages and talk about those words. Ending on the fireworks page lets me go right into…
Songs and Bounces
Twinkle, Twinkle, Fireworks
I wrote this a few years ago! I put a clip art photo of fireworks on the flannelboard as we sing.
Twinkle, twinkle, fireworks
Flashing high above the earth
All the shining sparkles say,
"Happy Independence Day!"
Twinkle, twinkle, fireworks
Flashing high above the earth.
You're A Grand Old Flag
This is what I would sing now instead of Yankee Doodle. My dad sang this one to us all the time so I'm really comfortable with the tune, and it's nice and bouncy. I like the pictures the version illustrated by Ann Owen, but there's a couple other versions that would work, too.
I think it would be fun to make shower-curtain-ribbon rings with red, white, and blue ribbons, and give them to the kids to wave around while you sang. (I'd say go get those little US flags at the dollar store, but I worry about their eye-poking potential.)
If you do sing Yankee Doodle, a nice follow up is The Royal Duke of York because they're both about marching military guys.
Other Stuff
Photo Cards
One thing I've done with the babies when I don't have a good book to read is just show them a sequence of photos from clip art. I print them out so they fill an 8 1/2 x 11 sheet of paper, and we just talk about the pictures. For some of the holidays, I have "color sets" with photos of objects with different colors. So we can talk about pink and red and white things on Valentine's Day, and green things on St Patrick's Day, and so forth. I have a set of red, white, and blue photos that I get out for the Fourth of July. You could make your own set of smaller images, and hand them out to the older kids, and have them come up to put first all the red things on the board, then the blue things, then the white things.
Color Game
Along the same lines, you can play the red, white, and blue flannelboard game that I posted last week for Flannel Friday!
What else have you done for a patriotic storytime?